10 Clever Easter Eggs in 'Stranger Things' Season 3 You Might've Missed [SPOILERS]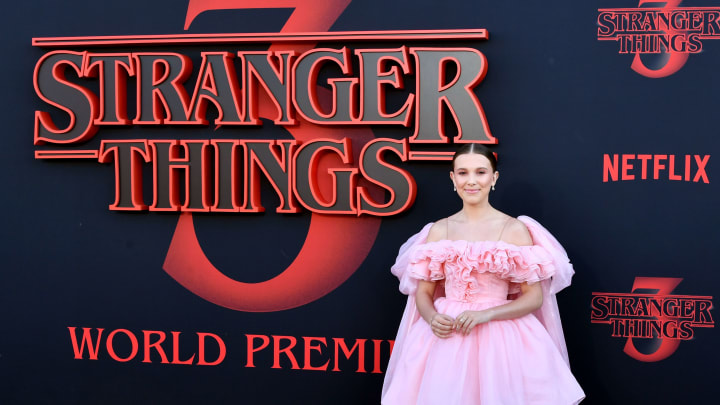 Premiere Of Netflix's "Stranger Things" Season 3 - Arrivals / Amy Sussman/Getty Images
This story includes spoilers for Stranger Things Season 3.
After waiting nearly two years for the latest season of Stranger Things, most of us couldn't help but finish all eight episodes in the matter of a day or two. But now that we know how it all goes down, between Billy Hargrove being taken over by the Mind Flayer and Jim Hopper's tragic death, we need time to process...and re-watch the whole thing. While watching again, make sure to look out for all the Easter eggs sprinkled in each episode, as there's a ton of references to '80s movies, previous Stranger Things episodes, and overall unexpected connections. 
Here are 10 clever Easter eggs in Season 3 you might've missed on the first watch.
1. The Season 1 Callback That Hints at Something Huge
Arguably the most heartbreaking scene in Stranger Things history came in the final episode of Season 3, "The Battle of Starcourt," when Eleven reads the scrapped letter Hopper wrote for her and Mike. Viewers at home cried along with her as she prepared for life without her "dad," but one element to the scene might hint that Hopper isn't really dead. The song that starts just as Eleven finishes up is Peter Gabriel's cover of David Bowie's "Heroes," the same rendition that played in the Season 1 episode "Holly, Jolly," when it was believed that Will had been killed. Of course, he turned out to be very much alive, meaning the same could happen for Hopper.
2. A Direct Jaws Reference
Stranger Things has never shied away from its references to classic movies, and in Season 3, Hopper says a direct quote from Jaws, as pointed out by Reddit user LucasLeArtist. When he's about to leave Enzo's after Joyce stands him up, he's told he can't take the alcohol with him, to which he drunkenly responds, "I can do anything I want, I'm Chief of Police." This mimics the scene in Jaws where Chief Brody says the same line before taking a swig of his drink.
3. Murray's Phone Number is Real
One of the more eccentric characters in Stranger Things, Murray Bauman, turned out to be extremely helpful this season, as he served as translator for Hopper and the Russian scientist Alexei. In one scene, Murray's phone number is shown, which it turns out is actually a real line you can call. According to CNET, when you dial 618-625-8313, you get a lengthy, and hilarious, answering machine message from the character.
4. Billy's Nod to Stand by Me
While Billy Hargrove surprisingly turned into a character you felt bad for by the end of the season, his scenes in the first episode proved he was still as big a bully as he was in Season 2. One example of this is when he's lifeguarding and yells at a kid for running by the pool. Billy calls him a "lard-ass," which doesn't just remind you of how mean of a person he is, but is also a borrowed line from the 1986 film Stand by Me. IndieWire points out that "lard-ass" was previously used in the movie during the scene when Gordie tells the memorable pie eating story.
5. The Iconic '80s Actress Reference
When Dustin returns to Hawkins from camp, he shocks everyone with the reveal that he has a girlfriend. Of course, the first reaction from his friends (Steve included) is that she isn't real. Dustin keeps the story up, however, and we finally learn in the last episode that Suzy does in fact exist. But the funny part is the fact that he says multiple times that she's better looking than Phoebe Cates. No, that's not one of the gang's classmates, it's actually an actress best known for her role in 1982's Fast Times at Ridgemont High. And in the season's final episode when Robin is trying to get Steve a job at the video store, he falls into a cardboard cutout of the actress as her Fast Times character before stopping to admire it. 
6. The Sneakers Scene Recreated
A Twitter user pointed out an unexpected callback to the 1992 film Sneakers, as Dustin and Robin recreate one of its scenes when getting the "complete blueprints" of the Starcourt Mall. It's almost word for word, with the only difference being that in Sneakers, they're looking at the Playtronics Corporate Headquarters.
7. The Void's Reference to A Nightmare on Elm Street
During Eleven's scariest venture into the Void this season, she tries to find the missing lifeguard Heather. As she approaches her home, the red door is reminiscent of the famous 1428 Elm Street, which first belonged to Nancy Thompson's family in 1984's A Nightmare on Elm Street. A Twitter user claimed the number on the door was the same, however in Stranger Things they changed it one number, as Heather lives at 1438. We're not sure if they had to change it because of legal matters, but it's got to be a reference to the iconic horror movie in any case.
8. Steve's Michael J. Fox Mix-Up
When Dustin, Erica, Steve, and Robin manage to escape the Russians in the seventh episode "The Bite," they end up in the movie theater at the mall, which is showing Back to the Future (1985). Steve and Robin soon leave, and while very high, try to analyze what they just watched. Robin hilariously says she's pretty sure "that mom was trying to bang her son," referring to Marty McFly and his mom, Lorraine. A confused Steve replies, "Wait, wait, the hot chick was Alex P. Keaton's mom?" As Den of Geek points out, Alex P. Keaton is actually the name of Michael J. Fox's character in 1982's Family Ties, not Back to the Future.
9. The Reality Bites Nod
In Episode 2, "The Mall Rats," Joyce ends up ditching Hopper to go find the kids' science teacher Mr. Clarke, only to find him jamming out to Weird Al Yankovic's parody song "My Bologna." A Twitter user pointed out that this must be a nod to 1994's Reality Bites, which features the memorable scene of Winona Ryder (who plays Joyce) dancing to the original song, "My Sharona." Ethan Hawke is also in the scene, who is the real-life dad of Maya Hawke, the actress who plays Robin in Stranger Things.
10. The Final Hint at Hopper's Survival
Perhaps the most important detail in the entire season comes during the post-credits scene, which includes another major hint that Hopper is still alive. Viewers are taken to the Russian base, where prisoners are being fed to the Demogorgon. One soldier then says, "No, not the American," before moving on to the next person held captive. Fans are convinced the American would have to be Hopper, although there are plenty of theories on other characters it could be. We'll have to wait until Season 4, which has not been announced yet, to know who it is for sure.