'Stranger Things' Creators and Cast Drop Hints About Relationships and the Mind Flayer in Season 3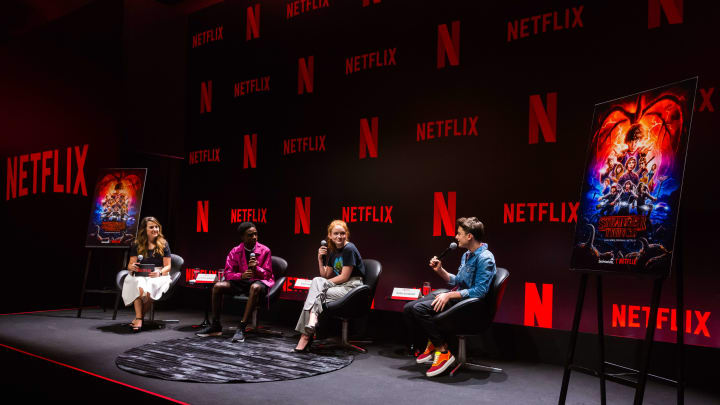 Stranger Things Season 3 is just around the corner, and, as the release date gets closer and closer, the cast and creators are revealing more tidbits about all the new goings-on in Hawkins. Co-creator Matt Duffer and actors David Harbour and Gaten Matarazzo recently gave some insight into everything that viewers can expect to see in the series, from the relationships between the characters to the emergence of an old enemy.
"We wanted to explore the theme of change," Duffer told Entertainment Weekly. "The season takes place during the last summer before high school. The kids are growing up, and that transition is going to be messy and awkward and painful. Are they able to grow up without growing apart?"
Another fluctuating relationship is that between Hopper (Harbour) and Joyce (Winona Ryder), who come together as Hopper seeks out help with being a single parent to Eleven (Millie Bobby Brown) as she enters a relationship with Mike (Finn Wolfhard). "She's able to offer me some advice on how to deal with being a single parent," Harbour said. "And how to, like, you know, stop being so damn controlling."
Just as the friend group begins to change and strain, the series also cements some existing fan-favorite relationships. When asked whether the bromance between Steve (Joe Keery) and Dustin (Matarazzo) will continue in Season 3 or not, Matarazzo confirmed, "You definitely see more of that."
And, of course, the interdimensional threats of Season 2 still linger in Hawkins. "Eleven closed the Gate, but the Mind Flayer is still alive in the Upside Down," Duffer confirmed. "It will find another way into Hawkins.… It's just a matter of time."
All of these juicy tidbits are getting us raring to see Stranger Things Season 3 when it arrives on Netflix on July 4--hopefully, it won't make our summer as turbulent as all the characters'.