David Harbour Responds to Popular Theory About Hopper in 'Stranger Things' Season 3 [SPOILERS]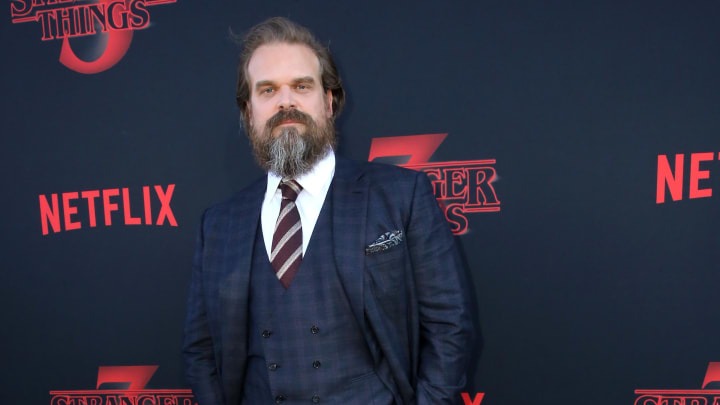 "Stranger Things" Season 3 World Premiere / Rachel Murray/Getty Images
This story includes spoilers for 'Stranger Things' Season 3.
Fans who have already binged Stranger Things Season 3 in its entirety are either in mourning or in denial about the emotional final episode. While the Hawkins gang was able to defeat the Russians and the Mind Flayer in an epic showdown at the Starcourt Mall, the series ended with Jim Hopper dying, and some of our favorite characters moving away. The tears were so real.
But many suspicious fans aren't convinced that Hopper actually died, and the post-credits scene seemingly hinted at his survival. When back at the Russians' base, we saw that prisoners were being fed to none other than the Demogorgon. But the wildest part of the scene was when one soldier said, "No, not the American." Could that American be Hopper? Many are sure of it.
The theory might seem a bit too good to be true, but would they really just kill off fan-favorite Hopper like that? David Harbour, the actor behind the character, has just weighed in, as reported by Independent. "I mean, I have no idea! [Laughs] I have no idea! I mean that, of course, is my hope too. It seems pretty crazy though," he told Entertainment Tonight of the popular theory.
When asked if fans should be holding out hope for Hopper's return, Harbour replied, "I mean, we should always hold onto hope. We should never let go of hope – but Barb is really dead." He also explained that he hasn't discussed Season 4 with the Duffer Brothers yet, but plans to soon.
Despite the heartbreaking ending of Season 3, we highly doubt Hopper is gone for good. But considering a fourth season hasn't even been announced yet, we might have a while until we actually find out. Until then, we'll be watching all three seasons of Stranger Things again just to deal with the pain.