Why David Harbour Thinks It's a Good Thing Hopper Supposedly Died on 'Stranger Things'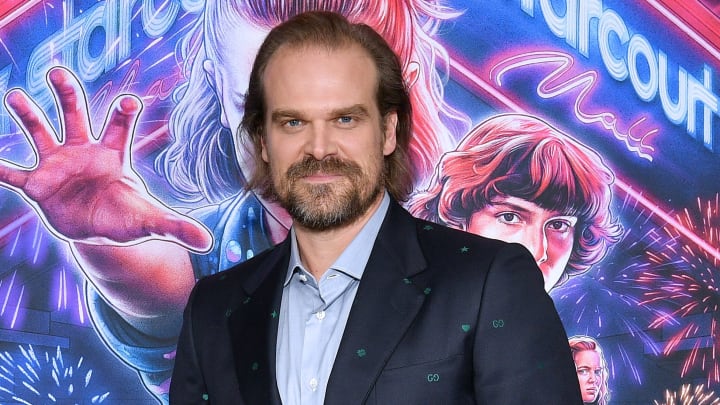 Hopper Actor David Harbour At The "Stranger Things" Season 3 New York Screening / Dia Dipasupil/Getty Images
Stranger Things fans have been reeling since the character Jim Hopper, played by David Harbour, sacrificed his own life to close the gate to the Upside Down at the end of Season 3. While most are rooting for the return of the grumpy policeman, Harbour is glad his character's fate took the turn it did.
The Black Widow actor recently sat down with the Los Angeles Times and revealed that, while he doesn't want to be off the Netflix mega-hit, he is glad Hopper supposedly died. He explained:
"When I read that first scene with Joyce [Winona Ryder] and Hopper and he resists helping her find her child and even makes a bit of a homophobic joke about him, you see this guy has really sort of died on the inside as a result of the death of his daughter. The fact that he lives with a certain amount of internalized rage and had been slowly killing himself with pills and alcohol ... he needed to make a sacrifice."
Harbour continued saying that the story arc gives Hop the opportunity to shed his baggage, and become reborn, so to speak. He added:
"One way it could be viewed is he has to die to make it up to [his daughter] Sara and see her in the afterlife. The other view is that because of this newfound relationship with Eleven [Millie Bobby Brown], he needs to shed his skin, make a sacrifice that allows his character to re-emerge. He was finally able to really take a bullet for a child, which he had never been able to do because Sara died of cancer. I think there's a perfection to it."
Harbour also stated that, while he is unsure if there will be a "second-act resurrection" for the character that he "desperately" loves, he does think Hop would have to "emerge a different individual" if he comes back.
We can't wait to see who (and what) emerges in Season 4 of Stranger Things.