David Harbour All But Confirms Popular 'Stranger Things' Theory About Hopper [SPOILERS]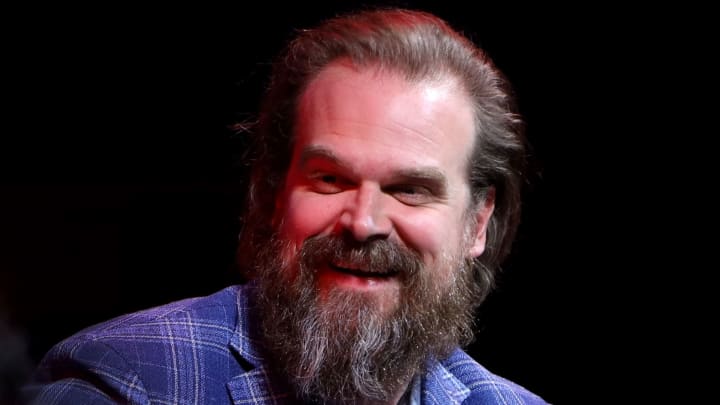 SAG-AFTRA Foundation Presents "Stranger Things 3" With David Harbour / Randy Shropshire/Getty Images
This article contains spoilers for 'Stranger Things' Season 3.
The finale of Stranger Things Season 3 brought on many reactions--laughter, cheers, gasps, and, above all, tears, especially at the seeming death of main character Jim Hopper (David Harbour). However, the finale's post-credits scene, which makes mention of a mysterious American prisoner in Russia, sent many fans into a frenzy of theorization--which seemed to be confirmed by Harbour this week.
In an interview with SlashFilm, Harbour seemingly confirmed the theory that Hopper is alive in Russia--at least to some extent. When asked about Hopper's fate after the ending, Harbour said, "Well, did you see the post-credits scene?" 
Subsequently, he added that the most likely situation is that Hopper is, indeed, the American behind the door, specifically remarking that the moniker of "the American" alludes to the fact that this was the term consistently applied to Hopper throughout the season by the Russian operatives.
Importantly, Harbour's tone suggests that the decision is, on some level, beyond him, something that tracks with other cast members' remarks that the future of the series is up to the Duffer Brothers. However, Harbour has previously remarked that he expects the series to have four or five seasons, and that he already knows the ending.
Harbour also added that he's interested to explore the future potential for his character. "I think the tapestry of Hopper is so large and interesting, and I also think that Hopper has karmic debts to pay for how dead he's been for a long time," he said. "We have to decide who this man is…Is he a man of justice? Is he a father? Which one is he? And I think those two things are not always compatible."
While we hadn't thought of those questions before, Harbour's point has us excited at the thought of seeing Harbour again--and we'll be waiting with baited breath for future news.