'The Office' Showrunner Breaks Down Jim and Pam's Intense Booze Cruise Scene on 'Office Ladies'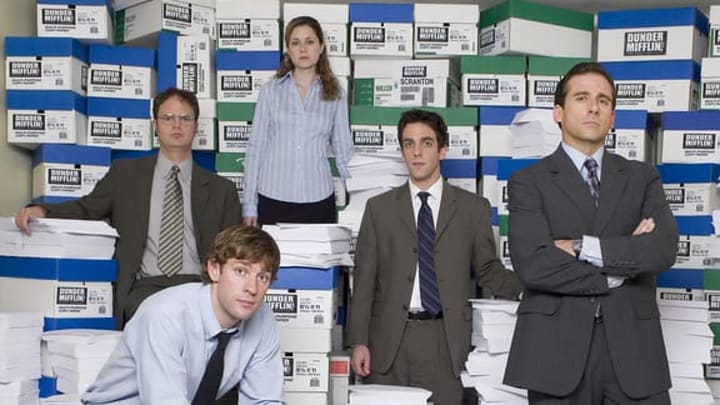 'The Office' showrunner Greg Daniels talks "Booze Cruise" episode with Jim and Pam on the 'Office Ladies' podcast / Flickr
If you haven't tuned into the podcast Office Ladies with Jenna Fischer and Angela Kinsey, do yourself a favor and hop on ASAP, because it is entertaining, hilarious, and overall perfect for everyone who's still obsessed with the NBC series.
The two co-stars just discussed Season 2 Episode 11, "Booze Cruise," and invited none other than showrunner Greg Daniels to talk all about the iconic episode. Of course, this one is hilarious for so many reasons—mostly involving Michael Scott antics—but what fans so often want to talk about is the romantic tension between Jim and Pam on the boat.
According to Mashable, Daniels shared that they opted to really shoot on a boat in Long Beach Harbor in December, so the bad weather was authentic. Jim and Pam have a very significant scene while on the boat, and the showrunner recalled of it:
"Pam really gives him an opening on the top of the boat there. That to me, the Jim thing of it, was that she's engaged and he wants to be a good person and respect the fact that she's engaged, but there's also all these clues coming in that there could be something... He doesn't go for it and it's very frustrating to watch."
This frustration begins when Pam says, "Sometimes I just don't get Roy." Fischer pointed out that this is the first time her character speaks badly about her relationship to Jim, and it leaves him feeling undecided on how to react. Of course, he chooses silence. 27 seconds of silence, to be exact, which is a super long time for a TV show. Daniels said that this is why The Office was so remarkable for its time, explaining, "Moments of behavior were more important than jokes, or setups, or punchlines lines, and stuff."
Office Ladies bringing out all the important players behind the best episodes of the series just makes us want to re-binge it all over again. Might as well, before it's removed from Netflix!