Tyga Was Reportedly Once Married to Tristan Thompson's Baby Mama Jordan Craig
By Natalie Zamora | May 18 2019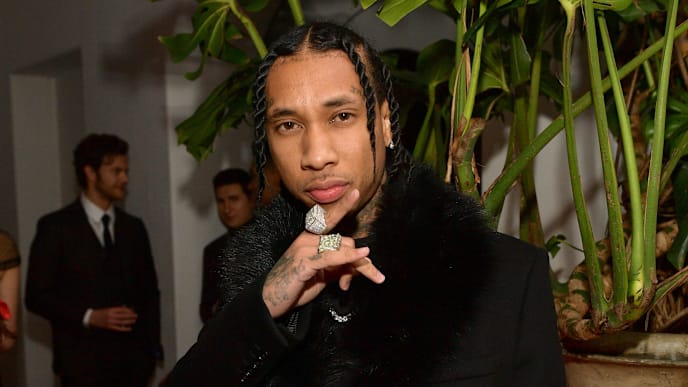 Yes, you read that right. So apparently, Tyga, who famously dated Kylie Jenner on and off for roughly two years, who also fathered a child with Blac Chyna (Rob Kardashian's ex fiancé and baby mama) was also married to Jordan Craig. The same Jordan Craig that Khloé Kardashian's baby daddy Tristan Thompson had a child with. We know this is confusing. And quite shocking.
TMZ recently unearthed court records which reportedly showed that Tyga got married to Jordan on Sept. 6, 2010—which would make him 20 years old at the time. (And Kylie 13, but that's besides the point). The pair filed for divorce exactly one month later. According to the publication and E! News, Tyga has been liking Jordan's photos on social media as of late. Very interesting.
We're not sure what terms Tyga and Jordan split on, but we do know that he went on to date Chyna come 2011. The pair welcomed their son King Cairo in 2012, and split in 2014. Their breakup, which Chyna believes was mostly due to Kylie, was followed by Tyga and Ky officially confirming their relationship in 2015 (though the rumors were circulating for a while).
If you're still following, 2016 saw Chyna and Kylie's half-brother Rob dating, getting engaged, and welcoming their daughter Dream. By early 2017, they called it quits.
And as for Jordan, she began dating Tristan in 2014, giving birth to their son Prince in Dec. 2016, by the time the NBA star had already moved on to Khloé. The reality star and basketball player welcomed their daughter True in April 2018.
At this point, we have many questions. But most importantly, do the Kardashian-Jenners know of this former marriage? And if they're just finding out now, how will they react? Something this wild would only happen to them, honestly.