Official Memorabilia From 'Star Wars' and Other Famous Films Going Up for Auction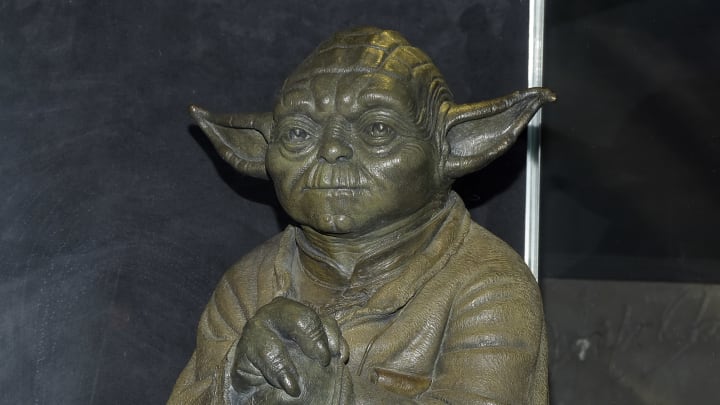 If you've ever sat awake at night with a sudden desire to possess Robin Williams' prop sword from Hook or wear Keira Knightley's dress from Pirates of the Caribbean: The Curse of the Black Pearl, you're in luck. Thanks to Prop Store, a massive auction featuring props from some of the most iconic films in history will be taking place in Los Angeles. As reported by Us Weekly, over 850 items will be available to bidders.
The auction will include amazing Star Wars props like the 1977/1978 Darth Vader promotional costume with a poster-matched helmet from Star Wars: A New Hope and Obi-Wan Kenobi's dueling lightsaber hilt from Star Wars: Attack of the Clones. However, the items certainly don't come cheap. The costume is expected to sell for between $150,000 and $250,000, and the lightsaber is estimated to make somewhere in the range of $25,000 to $35,000. If you desperately want these props, you're going to have to bring some serious cash to the table, as the offerings range in price from $100 to $500,000.
Other items going to auction are the cars driven by Leonardo DiCaprio and Brad Pitt's characters in Once Upon a Time in Hollywood, Katniss Everdeen's arena costume from The Hunger Games, and Tom Cruise's fighter pilot helmet from Top Gun. Included in the auction are pieces of memorabilia from classic movies such as Raiders of the Lost Ark, The Godfather Part II, Thelma & Louise, Anchorman: The Legend of Ron Burgundy, and Rocky.
The auction will take place on Wednesday, August 26 and Thursday, August 27. To register, click the link here.