People Are Seriously Mad at Farrah Abraham Over Her Latest Instagram With Sophia
By Bernadette Roe | Aug 12 2019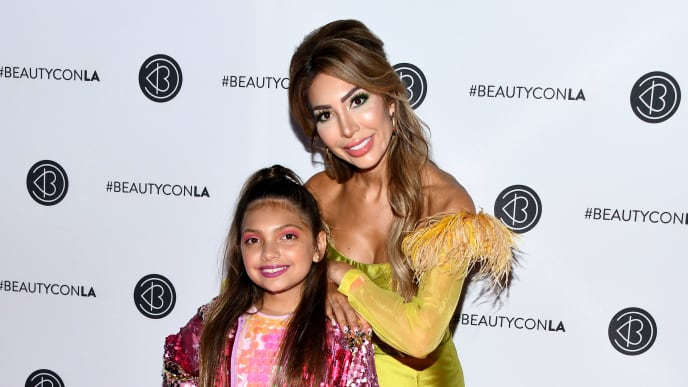 Farrah Abraham attended the 2019 Teen Choice Awards with her daughter, Sophia, and naturally posted pictures from the event on Instagram. While the mother-daughter outing sounds nice, people are fuming over Sophia's heavy makeup and the fact that she does not look like a 10-year-old girl, as reported by Inquisitr.
One comment on the post below reads, "She doesn't look like she's 10! Can you imagine all the sick men out thr [sic] looking at her." Another user also comments on Farrah's and Sophia's heavy makeup: "The amount of makeup on both of them would last me 2 years."
But Sophia's heavy makeup is not the only factor that's upsetting people. Farrah's caption for the photo, as many fans are pointing out, is seemingly limiting Sophia's future. Farrah says she's "supporting" her "mini me" in her future endeavors and adds the hashtags "singing," "acting," and "traveling." People are pointing out that Sophia's future can hold much more than those possibilities.
One Instagram user responded to these hashtags by saying, "Singing... acting.... traveling..............EDUCATION????"
The backlash does point to a valid concern. Shouldn't Sophia have many options available to her as she grows up and not have her future limited to the MTV world of entertainment, just because that is the lifestyle Farrah chose?
But isn't there another side to this conversation, one which should free Farrah from criticism, where she should be able to parent as she sees fit? If she and Sophia decide that makeup is acceptable for a 10-year-old child, that should be up to them.
Kim Kardashian has faced similar backlash for allowing her six-year-old daughter, North, to wear makeup. In the Kardashian-West family Christmas photo, North wore red lipstick and fans criticized the reality star for allowing her to wear it, citing that North was too young. Kim clapped back by saying, "She picked it though! It's a special occasion!"
Unfortunately for celebrities, these special occasions get heavily photographed and therefore widely viewed, leaving the public open to leave comments and criticism on their parenting choices.