Nathan Griffith's Girlfriend Ashley Lanhardt: Everything You Need to Know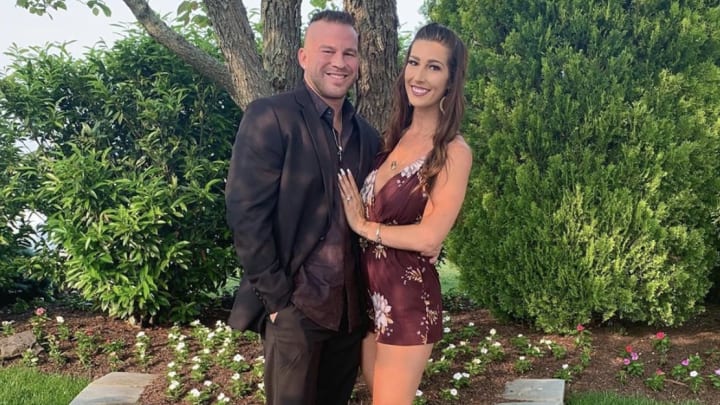 Instagram /
Nathan Griffith has been fighting for custody of his and former Teen Mom 2 star Jenelle Evans' four-year-old son Kaiser for some time now, ultimately creating drama between the two families. But now that Jenelle and her husband David Eason have had all of their children removed from their home, Nathan and his girlfriend Ashley Lanhardt have been in Kaiser's life more than ever. There are many reports swirling about Nathan's relationship, but who really is Ashley?
According to EarnTheNecklace, Nathan and Ashley have been dating since around May 2017. And although Jenelle has been with David since 2015, that doesn't mean there's been peace between the ex MTV star and Ashley. During the 2017 Teen Mom 2 reunion show, for instance, Jenelle got into a massive fight with Ashley, Nathan, Nathan's mom Doris, and even her own mom, Barbara. Jenelle claimed that Ashley attacked her backstage, to which Nathan later denied in an Instagram Live video.
Per her Instagram bio, Ashley is a therapist, who is also religious and into fitness. Her page, which has over 10,000 followers, is full of photos with Nathan, vacation shots, and workout selfies. She also frequently posts pics and videos of Kaiser, especially now that her boyfriend has temporary custody of him.
According to Nathan's friend Katlyn McCormick, Kaiser is much happier now that he's been spending his time with his dad and Ashley. "His demeanor as a little boy has changed so much since being with Nathan," she told Hollywood Life. "Kaiser is so happy and he even told me he isn't scared anymore."
Fans have been quick to post comments of support on Ashley's Instagram photos of Kaiser, with one writing on the pic above, "He's a totally different child now he's with you two! #teamgriffin." Another added, "This is one of the first time I see Kaiser with a real smile not with a fake one."
In more recent news, Hollywood Life reported this week that apparently, Ashley and Nathan have been discussing getting engaged. Katlyn told the website that, "They talk marriage all the time. I don't know when it's going to happen but I know that Nathan loves her and he sees a future with her." She even added, "Nathan tells me all the time within the next year he wants to propose to her. He's never had anyone who supports him like she does."
Nathan and Jenelle certainly have had their fair share of drama throughout the years, but it looks like Ashley is a real source of happiness for the father. Whether or not they do ever get married, we're just happy she's there for Kaiser through all of this controversy.