'Teen Mom 2': David Eason Defends Killing Jenelle Evans' Dog With Video Explanation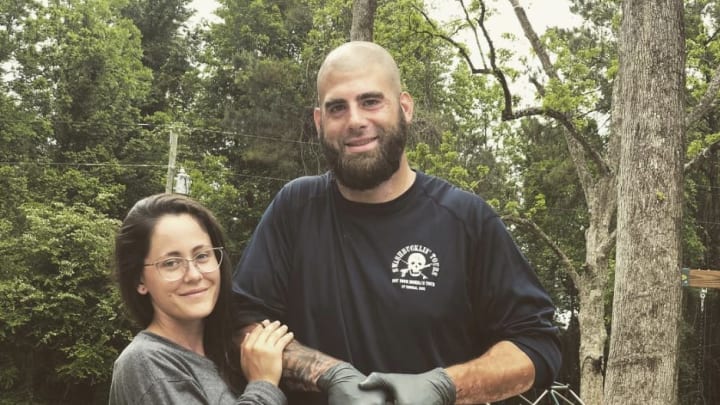 When alarming reports came out yesterday claiming Teen Mom 2 star Jenelle Evans' dog was killed by her own husband, David Eason, the MTV fan base was in disbelief. While many of us are not fans of the controversial figure whatsoever, it was still shocking to think he would hurt a pet animal. Well, it looks like it's all true, as David just confirmed it online.
RadarOnline reported yesterday that cops were called by an undisclosed male to "The Land," a.k.a. Jenelle and David's home. The Columbus County Sheriff's Department reportedly told to the publication: "A call was made today, and it was relayed that the woman's husband had killed her dog. The Sheriff is out there right now investigating and there will be an incident report filed later."
David has since taken to social media to defend his actions, claiming that the dog, named Nugget, bit his and Jenelle's daughter Ensley more than once. "I dont give a damn what animal bites my baby on the face... whether it be your dog or mine, a dog is a dog and I dont put up with that s**t at all," he wrote, along with a video of Nugget snapping at Ensley when she got up in his face.
The Instagram post also includes a photo of Ensley's face, presumably after Nugget snapped at her. Her cheek is red and blotchy.
"You can hate me all you want but this isn[']t the first time the dog bit Ensley aggressively," David continued in the caption. "The only person that can judge weather [sic] or not a[n] animal is a danger to MY CHILD is ME."
Jenelle took to Instagram as well to address the situation, although her post was far more emotional--and seemingly full of regret. "Nugget... I'm crying everyday. I love you so much and I'm so sorry. I'm speechless," she began in her caption.
"You're gone forever and there's no coming back," Jenelle sadly concluded.
We're waiting to see if Jenelle will eventually defend David's actions, or if this was the final straw in their already-problematic relationship.