Natalie Halcro and Olivia Pierson: Everything You Need to Know About 'Relatively Nat & Liv' Stars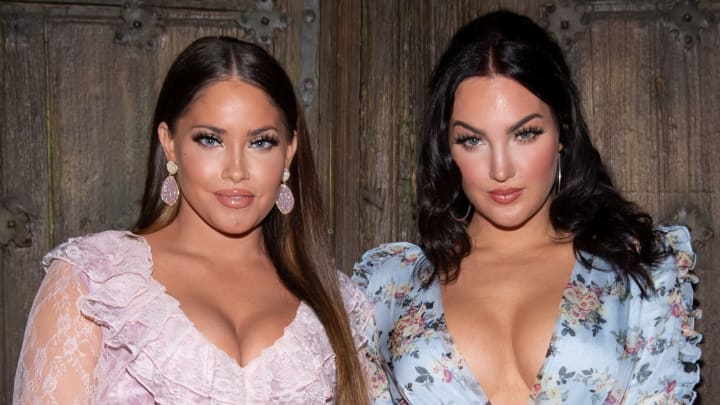 Whether you know them from the Kardashians' Instagram posts or episodes of WAGS--or if you just don't know them at all--you might be curious to learn all about Natalie Halcro and Olivia Pierson. The two beauty mogul cousins have just started their very own show on E!, titled Relatively Nat & Liv, following their fun-loving lives in Canada. In contrast to how they spend their glamorous days in Los Angeles, the ladies are set on showing their low-key lives while in their home country for the series.
"We're transparent," Halcro dished to People regarding the series. "You'll see people being vulnerable, the fights, the rocky spots. We don't hold back." Olivia added, "Our L.A. lifestyle is very different than in Canada. We go fishing, ice skating and we milk goats!"
So who are Nat and Liv, really? Let's rewind a bit.
31-year-old Natalie is a model, who has experience in runway and advertisements. As seen in the show, she has a sister named Stephanie and a brother named Joel, who both appear frequently in her everyday activities back home. Nat famously dated NFL player Shaun Phillips, which landed her on the series WAGS from 2015 to 2017.
Olivia, 29, also appeared on WAGS alongside Natalie, although she was single. Olivia has four siblings: Sophia, Brock, Preston, and Owen. Both ladies have taken their beauty and social media skills to become influencers, launching their successful YouTube page Nat & Liv three years ago, which has over 200,000 subscribers. Their account consists of makeup tutorials, skincare tips, and behind-the-scenes videos.
Nat and Liv also run their own blog called JEROME, where they share fashion and beauty tips, along with updates on their lives. As they've become more popular in the internet world, the cousins have achieved major followings on Instagram. Natalie has 3.7 followers on the platform, while Olivia has 2.7 million.
Nat and Liv made their Keeping Up With the Kardashians debut last year, and as detailed by Refinery29, the cousins hung out with Kim in Wyoming in 2018, and earlier this year, they attended Kim's CBD-themed baby shower for her son Psalm.
As for their current dating lives, Nat and Liv are both single--as far as we've seen on Relatively Nat & Liv. In the show, Natalie hangs out with her ex-boyfriend Aygemang Clay, but admits that she wants to put her career first before a relationship. As for Olivia, she split from boyfriend Marcedes Lewis in 2018.
To continue to keep up with these famous cousins, tune in for Relatively Nat & Liv every Sunday, and on Floor8 for more updates.