Natalie Halcro and Aygemang Clay: Everything You Need to Know About Their Relationship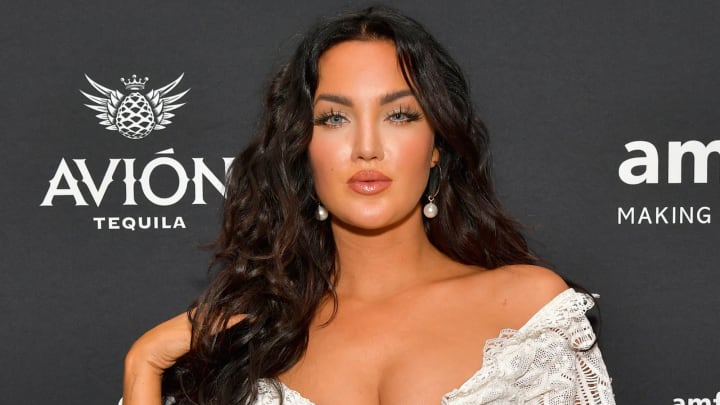 E!'s new reality show Relatively Nat & Liv premiered earlier this month, and so far, fans have had tons of questions about the up-and-coming family. The two leading ladies, Natalie Halcro and Olivia Pierson, are friends with the Kardashians, and are most famously known for their YouTube page Nat & Liv, as well as appearing on WAGS. Now, their new series explores their personal lives--between family, business ventures, friendships, and romantic relationships.
Who is Natalie Halcro Dating?
So far in the series, Natalie has been open about her on-again, off-again relationship with Aygemang Clay, who had appeared on WAGS with her. Viewers are now curious to know more about the mysterious man who pops in and out of Nat's life, especially after he made an appearance in an episode. And after she shared the first photo of her baby girl today, people are more curious than ever as to whether or not Aygemang is the father. Many fans commented on the post below inquiring who her baby daddy is.
Watch Relatively Nat & Liv on E! with a free trial for Fubo TV with this link here.
Here's what we know about their relationship. The second episode of the season, "Wet Your Whistler," saw Aygemang join in on the family vacation in Whistle, and Nat's fam had many questions about the nature of their relationship. Although she was accused of bringing a "hookup" on the family trip, Natalie opened up on what was really going on.
Nat explained that the pair broke up months prior because Aygemang wanted to become more serious, and she wanted to put her career first. But when he called her again, she was excited to hear from him and wanted to see him again. The reality star explained that she and her ex have "amazing chemistry."
In the most recent episode which debuted on Sunday, June 16, "Parent Trapped," Nat briefly touched upon what was going on with Aygemang after the family trip. During a birthday dinner out with celebrity friend Christina Milian, Natalie was asked about her relationship status. The social media influencer explained that her on-and-off boo was in Florida, and she was focusing on her career and clothing line before dating. She shared that her family thought he was, "amazing and nice, which he is," and admitted to having feelings for him.
However, at the end of the day, Natalie claimed that she'll be putting her efforts in her career, and hopes her personal life "falls into place" with it.
Reportedly, Aygemang is a blogger and model, represented by Wilhelmina Models. He's also pursuing a career in acting, playing Jay "The Sport" Jackson in a production of The Royale. He's had minor roles in popular shows as well, such as Ballers and Bloodline, according to his IMDb page.
Natalie Halcro Baby Daddy
Natalie took to Instagram on Thanksgiving 2019 to announce her pregnancy, sharing a photo of herself rocking a serious baby bump with the caption, "One more reason to be thankful this year." According to People, it's not confirmed who the father of Natalie's baby is. One could guess it could be Aygemang, but we have no way of knowing until the reality star confirms.
We're excited for Natalie as she makes the journey into motherhood and hope to hear more about the baby's father soon!