Kim Kardashian's recent Instagram post has garnered a ton of backlash, and it's not for the usual reasons. Frequently, the KKW Beauty founder is called out on her social media posts for alleged Photoshop fails, her parenting choices, and the fact that she is often not wearing a lot of clothing.
But this time, Kim is being slammed for promoting Flat Tummy Co., a brand of shakes that are meant to be meal replacements. "You guys all know I looove @flattummyco shakes," the reality star began in her caption. In the photo, she makes a kissy face while holding up one of the shakes.
Since this isn't exactly a healthy way to lose weight, Kim's comments section has blown up with criticism. One wrote, "ick Kim. stop promoting this toxic message please it's not cute," while another added, "This is a disgrace. Someone in your position of influence should not be promoting this crap. It is damaging, unhealthy and has f*ck all to do with weightloss [sic]." A third commented, "You never learn do you!!! Please I beg stop doing this to yourself and to others."
This is hardly the first time Kim has been called out for promoting the weight loss company. In May, the businesswoman posed with a Flat Tummy Co. Appetite Suppressant Lollipop, used to literally get rid of your hunger so you don't have to eat. This, expectedly, caused a bunch of backlash.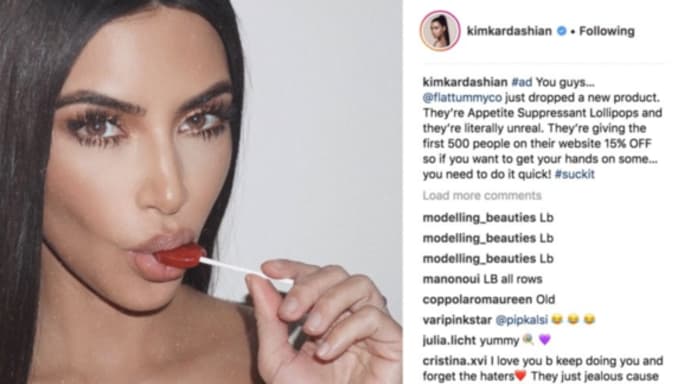 Actress Jameela Jamil, who has been very vocal on her disapproval of the Kardashians, was one of the many to slam Kim for advertising an unhealthy diet method. "No. F**k off. No. You terrible and toxic influence on young girls," Jameela tweeted along with screenshots of Kim's Instagram post.
It goes without saying these weight loss products should not be used in the place of food, but many people looking up to Kim might think that's what they should do. Although Kim is getting paid for these ads, we still understand why she's getting backlash for it.