Even the most out of touch person knows the name Rihanna, but most don't know how the worldwide star rose to fame. The 30-year-old singer's career actually started with a vacation in Barbados, surprisingly. Of course, the singer wasn't the one vacationing, but record producer Evan Rogers and his wife were visiting Rihanna's native island when she was discovered.
Rihanna scored an audition with the producer while he was down there, which was the start to all her success. When she walked into the audition, Rogers once recalled being shocked. "I said to myself, 'If that girl can sing," then — holy s**t! She had such a presence!" he said. "Her makeup was perfect, and she had these capri pants and matching sneakers, with her green eyes and her long supermodel neck."
Based on her attractive appearance, Rogers ignorantly thought that she wouldn't be able to sing, but of course, he was wrong. "The whole time I'm thinking, 'OK I have to follow-up meeting with this one,'" he shared.
Rihanna, who had no formal dance or vocal training, did have her sights set on the music industry, and she also wanted to escape from her childhood.
"It was more likely a much more urgent need to escape from the anxieties of a violent home life into the illusion of security and boundless love that a life onstage seemed to offer," Rogers said. "That desire, more than any inborn talent, is what fans will connect to, and that is what record men look for in a new artist. It's the one thing they can't manufacture."
Rihanna's first song "Pon de Replay" was sent to several record labels in Dec. 2004. When Jay Z heard the record, he immediately brought Rihanna to meet himself and the other executives at Def Jam.
"I was very shy ... I was cold the entire time. I had butterflies. I'm sitting across from Jay Z. Like, Jay Z," Rihanna recounted to the Observer in 2007. She auditioned at the label and impressed Jay Z so much that he reportedly immediately asked her, "So what do I have to do to get you guys to cancel all your other meetings?"
Jay wouldn't even let Rihanna leave the building until she was officially signed to the label.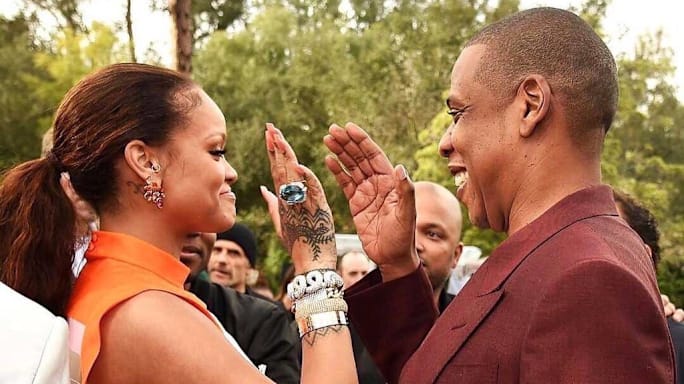 Apparently, Jay and Rihanna were there until 3 a.m. when the lawyers finally worked out all the details. She singer later recalled Jay Z saying, "There's only two ways out. Out the door," if she signed the contract, "'or through this window,'" if she didn't sign.
At only 16 years old, Rihanna was signed to Def Jam and was on her way to absolute stardom. The rest, of course, is history.