George R.R. Martin Says He's 'Writing Every Day' While Social Distancing Ahead of 'The Winds of Winter' Release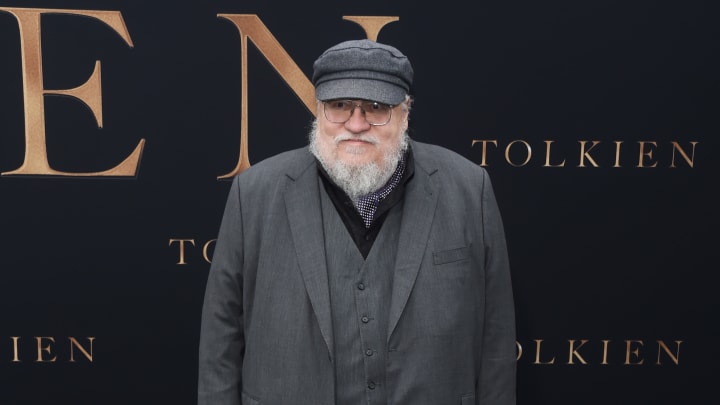 'Game of Thrones' author George R.R. Martin says he's "writing every day" during Coronavirus crisis. / Amanda Edwards/Getty Images
George R.R. Martin dropping the next book in his A Song of Ice and Fire series right about now would certainly ease the pain the world is currently going through, if only a tiny bit. And while it looks like the release date for The Winds of Winter is still pretty much up in the air, the New Jersey native is teasing fans with the fact that he's actively writing while isolating himself in this dangerous climate.
The Emmy winner took to his blog this week, as reported by CNET, to update fans on his health amid the Coronavirus crisis, assuring everyone that he's doing just fine. After explaining that his theater, the Jean Cocteau Cinema, along with his non-profit organization, Stagecoach Foundation, are shutting down, he then wrote:
"For those of you who may be concerned for me personally… yes, I am aware that I am very much in the most vulnerable population, given my age and physical condition.   But I feel fine at the moment, and we are taking all sensible precautions.  I am off by myself in a remote isolated location, attended by one of my staff, and I'm not going in to town or seeing anyone."
Martin then revealed he's kept busy working on what we can assume is The Winds of Winter, adding, "Truth be told, I am spending more time in Westeros than in the real world, writing every day.  Things are pretty grim in the Seven Kingdoms… but maybe not as grim as they may become here."
Last major update we heard from Martin in regards to the forthcoming sixth book in his fantasy series was back in May, when he promised he would have The Winds of Winter finished by the World Science Fiction Convention, taking place this upcoming summer. "I tell you this — if I don't have THE WINDS OF WINTER in hand when I arrive in New Zealand for worldcon, you have here my formal written permission to imprison me in a small cabin on White Island, overlooking that lake of sulfuric acid, until I'm done," he wrote in his blog at the time. "Just so long as the acrid fumes do not screw up my old DOS word processor, I'll be fine."
With nearly everyone forced to self-quarantine during this pandemic, maybe one good thing will come out of it. Maybe, just maybe, Martin will hold onto his word and will release The Winds of Winter in the coming months. After all, he really has no excuse now.
To find out how you can help those affected by Coronavirus in your community, click here.