Fans Are Convinced Kylie Jenner and Travis Scott Are Back Together After Oscars After-Party Outing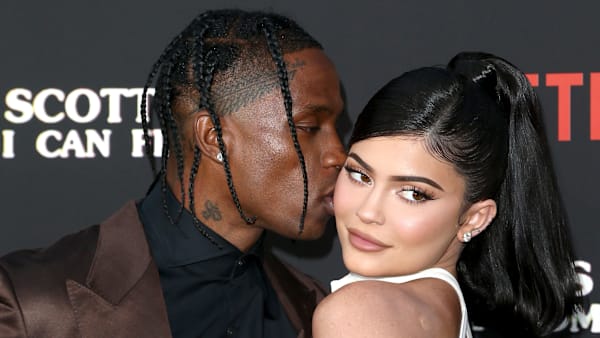 Although Kylie Jenner and Travis Scott officially parted ways back in October, the pair has been the poster couple for co-parenting, often spending time together with their two-year-old daughter, Stormi, along with only saying sweet things about one another to the media. With all this love still around, fans are left convinced a reconcilement is inevitable. In fact, many think the two are already back together.
The 22-year-old makeup mogul and 27-year-old rapper have been spotted multiple times out with Stormi, such as during a pumpkin patch outing and for their daughter's epic second birthday party earlier this month. However, speculation about their relationship really started to pick up after Kylie posted a video to her Instagram Story from Sunday night. Along with sisters Kourtney and Khloé Kardashian, Kylie was goofing off in the back of a car on the way to Beyoncé and Jay-Z's Oscars after-party. But fans really paid attention when the camera panned to Travis, also hanging with them.
After fanpage @KylieSnapchat posted a screengrab of the clip, fans started rapidly weighing in. "Am sure Ky n Travis are together low key," one commented, while another added, "I'm convinced Travis and Kylie are back together but on the low." A third asked, "Can someone explain to me what is this friendship? two [exes] who never separate. Please don't tell me it's because of stormi. because there was no stormi there." True!
Kylie has, unsurprisingly, not responded to all the gossip, but it doesn't seem like she's trying to hide her close relationship with Travis, either. Most recently, the billionaire dished to Harper's Bazaar about her ex-boyfriend and baby daddy, explaining:
"We're like best friends. We both love Stormi and want what's best for her. We stay connected and coordinated. I think about [my parents] in situations with Stormi, what they would do. They were very hands-on with me, and I want the same for Stormi."
As happy as I am to see Ky and Trav co-parenting so well, I think I speak for most fans when I say I hope they're secretly back together.