10 Best Reality TV Shows on Netflix to Binge During Quarantine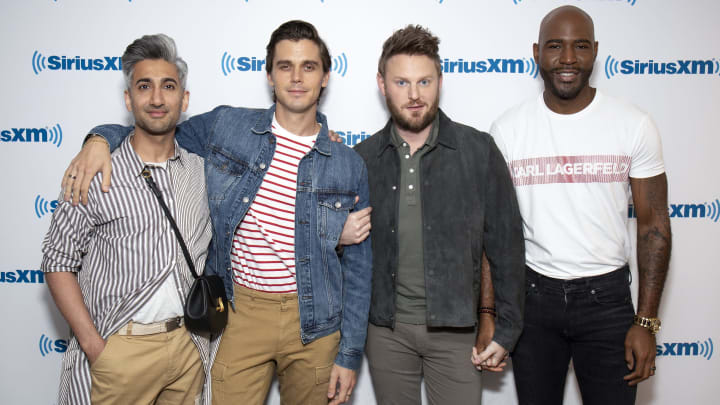 The cast of Netflix's 'Queer Eye' / Santiago Felipe/Getty Images
Let's face it, it's been a long couple of months. While you hunker down at home during the coronavirus quarantine, why not fill a few (dozen) of those endless hours with some A+ reality television? Whether you're craving an epic makeover, a carefully baked biscuit, or some sexy singles catfishing each other, all you really need is a Netflix subscription.
Best Reality Shows on Netflix
1.

Queer Eye
Queer Eye is the be-all-end-all of reality television. The Fab Five will remind you that it's OK to give yourself a little TLC during this difficult time. As Jonathan Van Ness once said, "How you take care of yourself is how the world sees you."  
2.

Next in Fashion
There are four seasons of Queer Eye to binge (plus one in Japan), but if you still can't get enough, never fear. The show's style guru, Tan Fran, also cohosts Next in Fashion with the fabulous Alexa Chung. It's the Project Runway of Netflix.
3.

The Circle
The Circle came out earlier this year, but it feels like a lifetime ago, and that means it's definitely all right to binge the whole thing again. The groundbreaking dating experiment proves that it's possible to find love and friendship, even in isolation.
4.

Love is Blind
Love is Blind was released in the formidable wake of The Circle, but it totally holds its own. The show's contestants agree to marry each other after just a couple of days—without laying eyes on one another first.
5.

Too Hot to Handle
Rounding out Netflix's 2020 dating trio is Too Hot to Handle. It's like Love Island, except that all sex is banned. If these lusty singles can survive without physical contact, so can you.
6.

The Great British Baking Show
For some good, wholesome entertainment, nothing compares with The Great British Baking Show. Imagine aromas of fresh-baked bread wafting along an English country breeze. Meet some lovely, very polite amateur bakers. It's a true oasis.
7.

Nailed it!
On Nailed it!, not-so-talented contestants compete to recreate elaborate cakes for a $10,000 prize. The results aren't appetizing, but they'll make you laugh, and they might convince you that you're not such a terrible baker after all.
8.

The Bachelor
If you're looking for a throwback to a simpler time, Jason Mesnick's season of The Bachelor is currently available to stream on Netflix. Jason set the precedent for Bachelors who change their minds about who to marry at the very last minute. Seriously, nothing will cheer you up like watching the drama-packed After the Final Rose special from this season.
9.

Rhythm + Flow
Two words: Cardi B. Yep, the popstar/comic genius cohosts Rhythm + Flow alongside T.I. and Chance the Rapper. The show is Netflix's first foray into reality music competitions, and it's unique in its focus on hip hop. There are a lot of golden Cardi moments on this one, not to mention some impressive new talent. 
10.

Amazing Interiors
You can't actually leave your house, but you can still catch a glimpse of what it might be like to live in somebody else's. Amazing Interiors focuses on big, surprising reveals—buildings that look run-of-the-mill, but actually house amazing secrets, like a backyard rollercoaster or a banquet hall. Now that you've got a little extra time on your hands, why not get started on an indoor aquarium yourself?