As obsessed as the world is with Kylie Jenner, it goes without saying that something as major as a possible engagement is huge news to her fans. But as private as the 21-year-old makeup mogul is with her personal life, we don't expect her to just make a huge announcement like that. Since she started dating Travis Scott back in April 2017, we've spotted what appeared to be an engagement ring on her finger on multiple occasions. Here are all of those times.
November 2017
Kylie took to her Snapchat to show off a massive diamond ring on her ring finger while driving to Kim Kardashian's baby shower in Nov. 2017. While we all flipped out, the reality star did not comment.
March 2018
One of the first photos Kylie shared of her and daughter Stormi in March 2018 came a month after she gave birth, and because we were all so excited, many of us didn't realize a major detail in the pic. She was wearing a gold band on her ring finger.
And just a few days later, Ky refueled the engagement rumors when she showed off a ring worn on her ring finger with the initials "JW." This could've either been for Jordyn Woods, her best friend, or for Jacques Webster, Travis' real name.
April 2018
A month following, Kylie was photographed out with Jordyn wearing multiple diamond rings. One in particular was worn on her ring finger. She also took to Instagram with a video rocking the same ring days later, seemingly on another finger. Way to confuse us, Ky!
July 2018
By summertime, fans had reason to believe Kylie might be engaged again, when she took to social media with a brand new diamond ring on. This one was way less traditional, but we know the makeup mogul loves edgy styles. Rumors died down, however, as Ky was wearing it on her middle finger, not her ring finger.
November 2018
After months of Kylie and Travis simply calling each other "husband" and "wife," another suspected engagement ring was spotted. During Trav's Astroworld tour, a video of Kylie in the audience showed her wearing a huge rock. Though it wasn't on her ring finger, she simply could've switched fingers to not give away the secret.
January 2019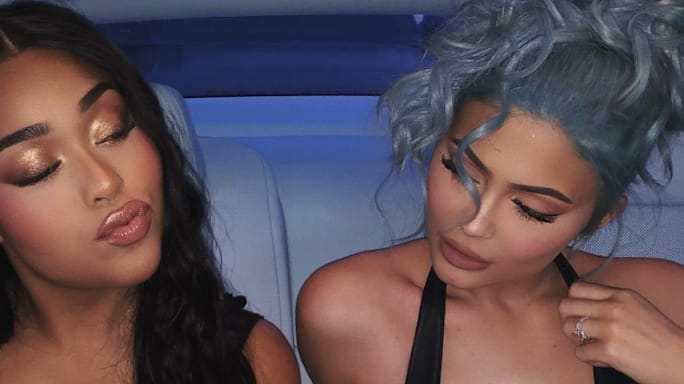 Fast forward to the new year, and Kylie is still fueling the rumors. In celebration of New Year's Eve, Jordyn took to Instagram with a series of photos of her and Kylie. In one picture, a massive diamond is seen on the mother-of-one's ring finger.
And it appears Kylie is still wearing the same ring! Just about a week into the new year, the reality star took to Instagram with a series of gorgeous shots. But it didn't take any zooming in to see the huge diamond on her ring finger.
While Kylie has stayed quiet on the subject over the course of her and Travis' relationship, the rapper opened up to Rolling Stone in December on their wedding plans. "We'll get married soon. I just gotta sturdy up — I gotta propose in a fire way," he sweetly shared.
Out of all of the suspected engagement rings Kylie has worn, the one she's currently rocking might be the most extravagant. Here's to hoping it's actually the one!