Why People Are Convinced Tyga Just Shaded Travis Scott Following Kylie Jenner Split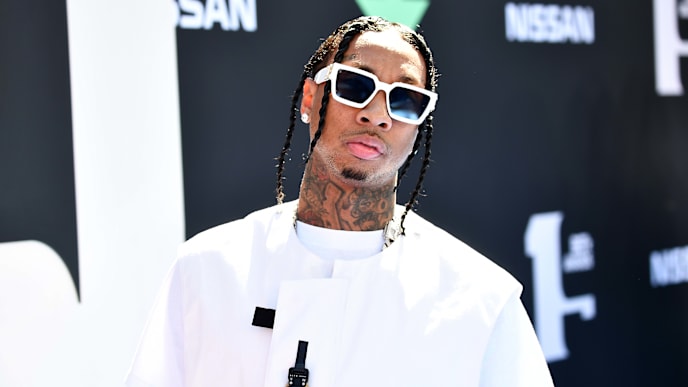 Kylie Jenner and her ex-boyfriend Tyga might not be back together, but it looks like the "Taste" rapper is having a little bit of fun with all the rumors.
Fans were heartbroken to hear the news of Kylie's split from baby daddy Travis Scott after over two years together, however the real shock came when rumors started circulating the makeup mogul was hanging out with her ex. But despite being spotted at the same location, Kylie made it known nothing was going on.
The 22-year-old billionaire took to Twitter soon after to set the record straight.
For Tyga's part, he has yet to make a public statement about the rumors, but one recent fashion choice might speak louder than words. As reported by Elite Daily, the 29-year-old rapper raised eyebrows when he rocked Travis' Jordan 1 High Top sneakers in an Instagram post.
Unsurprisingly, Tyga's comments section blew up with messages about his shoes, such as, "Oh you wrong for this," "Zero respect," and "kylie had those lying round right?" One even went as far as to joke, "Kylie came to drop the kicks in the studio."
Tyga has yet to respond to the shade accusations, but it seems like an extremely petty move on his part. Why would he wear those shoes, take a photo in them, and post with them just days after all the rumors began? Shaking my head!