Watch Kylie Jenner Get Ready for Met Gala With Vogue Video Featuring Kendall, Travis, and Stormi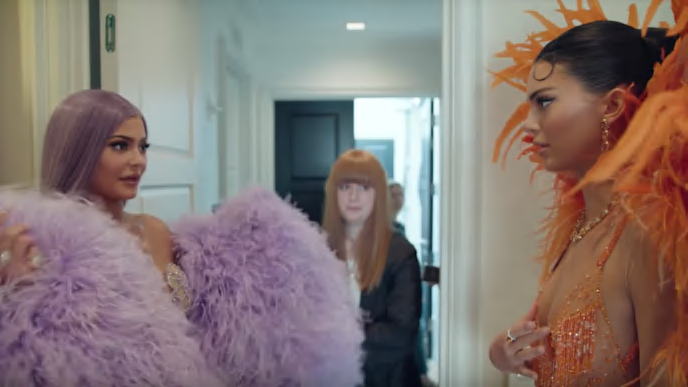 Fans of the Kardashian-Jenners were no doubt at the edge of their seats when the red carpet for the Met Gala began on Monday, as we all waited for the arrival of our favorite famous family. With the theme for the event being "Camp: Notes on Fashion," everyone was curious to see what the ladies would wear. And they definitely brought their A-game this year.
Kris, Kendall, and Kylie Jenner, as well as Kim Kardashian, rocked the red carpet, along with their respective men: Corey Gamble, Travis Scott, and Kanye West. Their looks definitely got fans at home talking, and the memes to come out of Ky and Kendall's purple and orange outfits were hilarious. And now, thanks to a behind-the-scenes video for Vogue, we get to see the 21-year-old makeup mogul prepare for the big night, with appearances by Kendall, Travis, and even her one-year-old daughter, Stormi.
The video opens with the sketch process of creating Kylie's dress, which was designed by Versace. Head Designer Elenia Marzolo, and Head of Womenswear Edward Cromack explain how they took the look from paper to real life, recalling how they picked the materials and the tiny details.
Kylie also explains how she and Ariel Tejada, her long-time makeup artist, picked her glam look to go along with the extravagant dress. Although she does describe the process as stressful, the whole team seemed extremely prepared.
Kendall then arrives in her orange Versace gown, as she helps her sister decide if she should do sleeves with her dress or a large headpiece. The girls are then finally ready, and they go take photos before heading out. This is when Travis and Stormi join them, as they pose for a quick photo opp.
The whole crew turned out looking amazing, and we're glad to see as many behind-the-scenes peeks from their night as we can!