VIDEO: Tyler and Catelynn Baltierra Meet With Carly's Adoptive Parents on 'Teen Mom OG' Reunion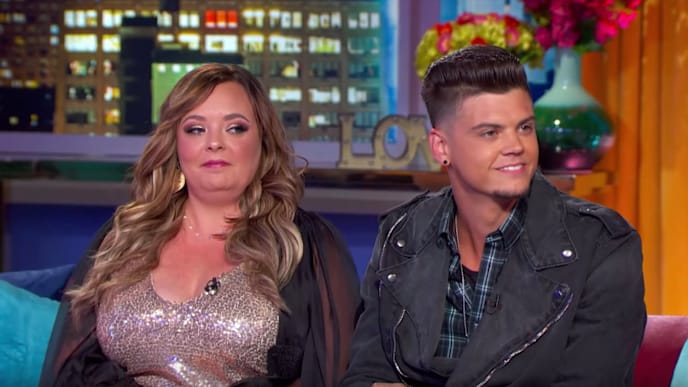 Tyler and Catelynn Baltierra shared an interview with their daughter's adoptive parents, Brandon and Teresa, on the Teen Mom OG reunion show. It was a nostalgic and heartfelt reunion with flashback clips to the first time the four all met 10 years ago.
According to E! News, Dr. Drew asked Brandon and Teresa if they would have guessed Catelynn and Tyler would stay together all this time. Teresa sweetly responded by saying:
"I mean, look at the clip, and if you go back to 16 & Pregnant, I mean, Catelynn and Tyler were pretty tight and bonded. So it's not necessarily surprising when we go back to what we think of what we knew of them when we first met them."
Tyler also shared his discovery that usually the birth father does not stick around, and so the crowd congratulated him on staying with Catelynn through the adoption process and visits with Carly.
Tyler also expressed his gratitude to Brandon and Teresa for what they have done for Carly. "Thank you for letting us be involved and just see her and just being amazing parents for her. We couldn't have really asked for anything more, honestly," he stated.
Brandon was quick to respond in gratitude as well, saying, "That's very kind. The first thing that comes to our mind, as always, is thankfulness and gratefulness for y'all. And I mean, we wouldn't be here if it wasn't for that."
Watch the video below for the interview.
For more heartfelt moments, Teen Mom OG's two-part reunion show continues tonight on MTV.