VIDEO: 'The View' Hosts Slam Kourtney Kardashian for Getting Upset Over Turning 40
By Jessica Bowman | Jul 10 2019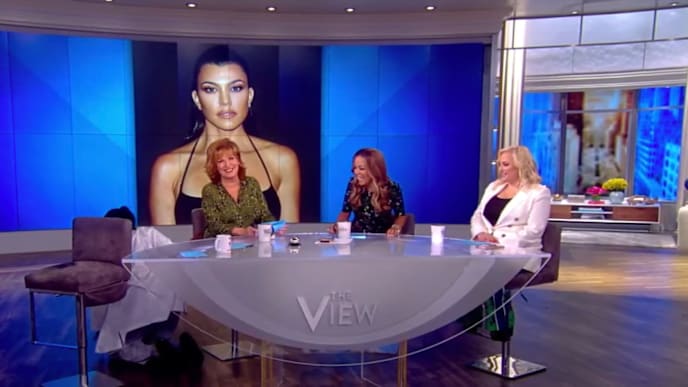 In the upcoming season of Keeping Up With the Kardashians, Kourtney Kardashian has an emotional meltdown about turning 40, crying to her sister Khloé about "wanting more time" and "being miserable."
The clip of the incident was released this week, and the ladies of The View are apparently not about it, as reported by USA Today. Co-host Whoopi Goldberg introduced the clip, showing Kourtney opening up about her struggle with aging, after which Whoopi slid herself off her chair and onto the floor, really showing her disgust for the reality TV star.
Co-host Joy Behar began the conversation by asking, "The thing is: on the one hand, she wants more time, but then she's miserable. So what do you want more time for?" Goldberg, along with co-hosts Sunny Hostin and Meghan McCain, laughed and rolled their eyes in agreement.
McCain, the youngest of the four co-hosts, stated, "I'm with Whoopi on this…Not to be a Debbie Downer on this, but you have all the money, all the opportunities, life advantages in the entire world. There are people who can't feed their children. I do not feel bad for her. Come on, have some self-reflection on this. It's a bad look for you, Kourtney."
She went on to try and explain Kourtney's background a little further, but was interrupted by Behar, who stated that she was the expert because she was the oldest on the panel.
Maybe Kourtney will heed Behar's advice and try to find some inner peace about her new age. She should probably steer clear of Whoopi, though, who was clearly just over the topic.