VIDEO: Blake Griffin Tells Caitlyn Jenner She Gave Daughters 'Daddy Issues' on Comedy Central Roast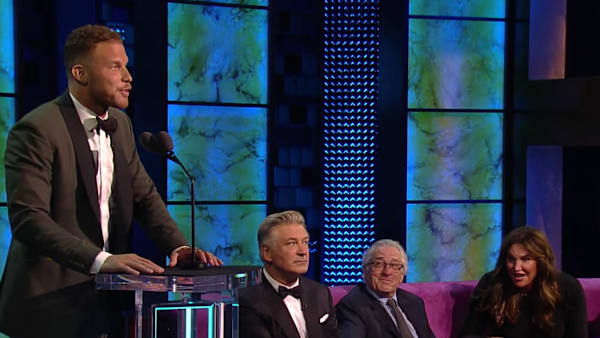 Comedy Central hosted a Roast of Alec Baldwin (which airs on Sept. 15), and from clips alone, it looks like the night was filled with racy one-liners that had everybody turning their heads, as expected. For whatever reason, Caitlyn Jenner was a participant, and one of her daughters' ex-boyfriends really went for the jugular on the former athlete.
One bit that stood out, as reported by TMZ, was made by Kendall Jenner's NBA star ex, Blake Griffin. He can be heard saying in the clip above, "Caitlyn completed her gender reassignment in 2017, finally confirming that no one in that family wants a white d**k." He later said to Caitlyn, "On behalf of the entire NBA and half of the rappers on the Billboard charts, I want to thank you for giving your daughters their daddy issues!"
Thankfully, it seemed like Caitlyn took the jokes well, laughing along with the audience and fellow participants. Blake had some serious burns, and we wouldn't be surprised if he faces backlash from Kardashian fans.
We'll be excited to see what jabs Caitlyn brings for her turn at the roast when the special airs this Sunday.