'The Bachelor' Contestant Victoria Paul Looks Just Like Demi Burnett and Twitter is Bugging Out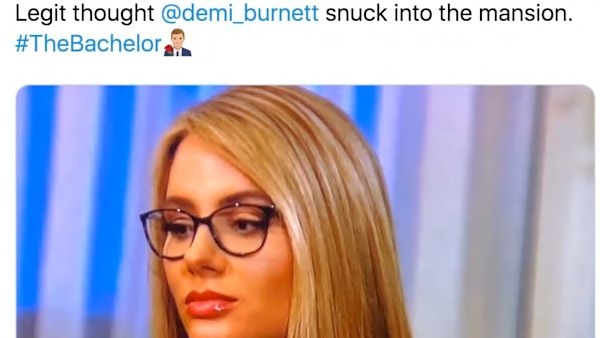 There were so many wild moments on the Season 24 premiere of The Bachelor last night, it's hard to keep up. Hannah Brown came back for a very emotional reunion with Peter Weber. Someone straight up brought a cow. And contestant Victoria Paul is pretty much a doppelgänger for Demi Burnett, known best from Colton Underwood's season.
Demi also made a splash after her time on The Bachelor, entering Season 6 of Bachelor in Paradise this past summer and becoming part of the first same-sex relationship the show had seen. Kristian Haggerty, Demi's former love prior to the season, came onto the island and the pair left BIP engaged. However, sadly, the two have since called it quits. Fans were certainly ready to miss Demi on the new season of The Bachelor, but were pleasantly surprised to see a contestant look so similar to her.
Demi Look-alike Bachelor
Of course, Twitter is a big, confused mess over Victoria P.'s resemblance to their dear Demi. Some people legitimately thought Demi returned to the dating series and others are struggling to understand that it's actually a new person.
It's kind of understandable, though, considering Victoria P. and Demi really do look similar, especially with the glasses.
Demi herself has responded to the uncanny resemblance, joking on Twitter when Peter gave Victoria roses that, "Omg Peter just gave me flowers #TheBachelor."
Of course, Demi can take a joke and is probably stunned at their similarities herself. Keep up with Victoria P. on this season of The Bachelor, airing every Monday night on ABC.