History always seems to repeat itself, and as for Tristan Thompson, it looks like he'll keep cheating until every woman in the world refuses to date him. Just like with last year's cheating scandal, which saw the NBA star cheating on Khloé Kardashian with multiple women, it seems his most recent infidelity with Jordyn Woods wasn't the only incident in the past week.
Fans of the Kardashians have been furious at Tristan since news hit earlier this week he had cheated on Khloé with Kylie Jenner's best friend, Jordyn. The alleged hookup was said to have occurred the night of Saturday, Feb. 16, leading into the morning of Sunday, Feb. 17. But according to Daily Mail, this might not have been the first act of unfaithfulness the Cavs player committed that weekend.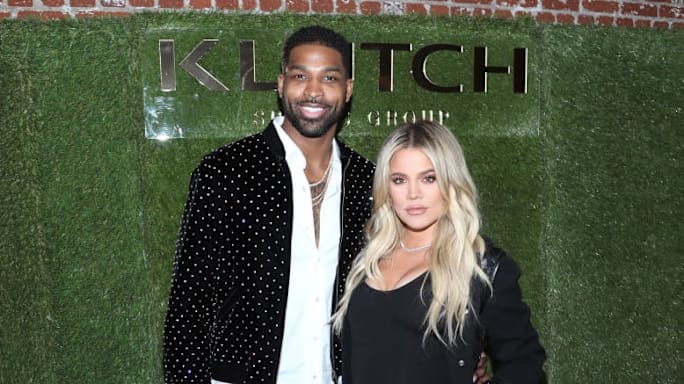 The publication reports that Tristan was seen at a singles Valentine's Day party last Thursday, at which he got very close with multiple ladies. He apparently was "all over" two women in particular, described as a "Latina with brown hair and a Middle Eastern woman both in their early 20s." He then "vanished" into a bedroom with them for an alleged 35 minutes. Yikes.
DailyMail published a video they claim to be of Tristan at the party, although it's a bit too dark to know for sure.
A partygoer dished to the publication on what they saw that night. Apparently, the party took place at teammate Jordan Clarkson's home. "Then at around 11:30 p.m. Tristan comes in, he's smiling, very playful, very happy, and immediately he's dancing with his teammates and some girls," the guest recalled. "Me and my friends were like, 'Why's he not with Khloé and his baby on Valentine's Day?'"
"Then I saw him drinking and knocking back shots at the bar and he was flirting and exchanging numbers with girls who came up to him - he certainly didn't look like he was with Khloé anymore. He was dancing, flirting, touching, grabbing butts, that kind of thing," the eyewitness added.
Although we don't have proof of what went down that night, we're pretty sure we can guess. This is hardly surprising of Tristan, however we feel heartbroken for Khloé. Hopefully this is the true end of their relationship.