The Reason Kit Harington's Real Butt Wasn't Used in 'Game of Thrones' Cave Scene
'Gunpowder' Preview Screening Photocall / Tim P. Whitby
HBO's Game of Thrones has certainly given us a fair share of steamy moments, but fans will likely remember Season 3's big sex scene between Jon Snow and Ygritte Wildling as one of the best. The episode, appropriately titled "Kissed By Fire," saw Jon finally losing his virginity, which actually turned out to be a super romantic moment.
Kit Harington later spoke out on shooting the scene, admitting he "enjoyed it a lot." He told Vulture in 2013, "It's one of the rare moments in the series where you get quite a tender, happy moment between two people." He and his co-star Rose Leslie, of course, went on to get married in real life, which adds a whole other layer of significance to the scene years later.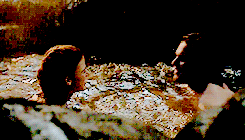 But one of the best parts in that scene for fans wasn't exactly fully truthful. When we saw Jon from behind, fully exposing his bare butt, it wasn't actually Harington at all. The actor admitted in an interview with GQ about a year later, "When it came down to it I had a broken ankle, so the only time you saw my ass, it wasn't my ass."
Harington apparently broke his ankle six weeks before shooting Season 3, explaining, "Young male stupidity, really. I didn't see any point in lying about it to anyone afterward." What happened was, after he realized he left his keys inside of his apartment one night, he drunkenly decided to climb up to his second-floor window. He claimed he doesn't quite remember what happened next, but his roommate found him on the ground in pain afterwards.
The actor admitted he was scared the broken ankle might've costed him the Game of Thrones role, but fortunately they were able to film around it. And ultimately, this meant he could not show off his own butt in the cave scene.
Fans know we eventually did get to see his bare behind for real in the Season 7 episode "The Dragon and The Wolf," which saw Jon Snow and Daenerys Targaryen making love. Harington went on to confirm it was him that time, explaining on The Jonathan Ross Show in 2017, "If you're getting your bum out in front of 60 million people, you do your homework," claiming he did squats in preparation.
If you're wishing for another opportunity to see Harington's behind, he will appear as Jon Snow one final time in the final season of Game of Thrones, which premieres on April 14. Maybe you'll get lucky.