'Star Wars: The Mandalorian' Season 2 Filming Has Officially Wrapped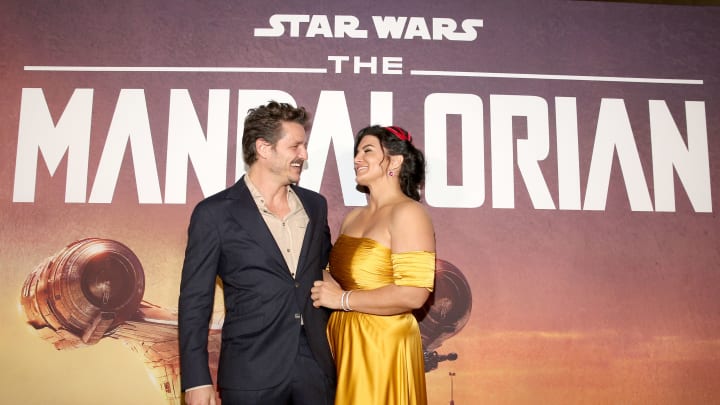 Season 2 of filming Disney+ series 'Star Wars: The Mandalorian' has wrapped. / Jesse Grant/Getty Images
The Mandalorian star Gina Carano took to Instagram this past weekend to reveal that production has officially wrapped on the upcoming second season. The Disney+ hit Star Wars prequel series is expected to make its highly-anticipated return later this year in October. Carano, who will be reprising her role as Cara Dune, confirmed that filming had finished alongside a black and white photo of the herself, writing, "I absolutely love this work and the people in it."
Set five years after the events of Return of the Jedi and 25 years prior to the events of The Force Awakens, The Mandalorian follows the bounty hunter Din Djarin, played by Pedro Pascal, who is forced to choose morals over money when he's hired to deliver a little creature to a client with sinister Imperial connections. The cute thing in question is Baby Yoda, a.k.a. The Child, the most adorable Force-sensitive, mischief-seeking being this side of Hoth, to whom the Mandalorian acts as a father figure. The show premiered on the launch day of Disney's streaming service last November and was a massive hit with Star Wars fans.
Executive Producer Jon Favreau shared a picture of the visit on his Instagram page, showing that Star Wars creator George Lucas visited the set of the TV series in January. The photo showed Lucas holding the puppet of everyone's favorite character, Baby Yoda. The picture seemingly confirms that the green guy will be back (of course he is, look at all the merchandise he's spawned!), but it is still unclear what the plot of the show will include moving forward.
The Mandalorian Season 2 will be released this fall.