Scott Disick Reportedly Checked Into Rehab for Substance Abuse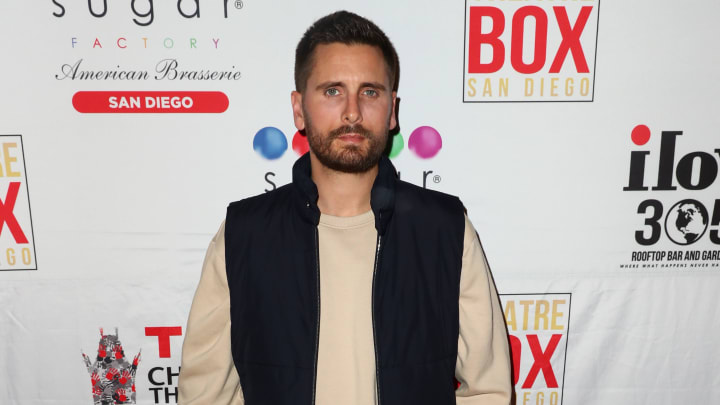 If this report is true, Scott Disick has unfortunately been having a rough go of things as of late. According to multiple publications, the father-of-three entered a rehab facility in Edwards, Colorado last week for substance abuse.
An insider told E! News of the situation, "It's true. Scott checked in last week. He had a lot of guidance from Kourtney [Kardashian] and she demanded that he get help. Things have been bad the last couple of weeks and Kourtney won't allow him around the kids unless he gets treatment." While the publication has not confirmed what exact substances the reality star had been abusing, a report from the Daily Mail claims that it was both cocaine and alcohol. The site claims that Scott entered the facility after he cleared a coronavirus test, with a source saying, "He said he's having trauma from his past, he mentioned trouble with his ex and said he's also having trouble with his children and he's been taking cocaine and drinking a lot."
To make matters even more unclear, however, TMZ is now reporting that Scott denies any alcohol or cocaine abuse, and though the 36-year-old Keeping Up With the Kardashians star was in rehab, it was apparently for emotional support rather than help with substances. His lawyer Marty Singer told the site:
"In an effort to finally come to terms and deal with the pain that Scott has been silently suffering for many years due to the sudden death of his mother, followed by the death of his father 3 months later, Scott made the decision to check himself into a rehab facility last week to work on his past traumas."
Photos taken of Scott outside of the rehab center have circulated, and Singer confirmed that they will be suing. According to Cosmopolitan, his lawyer added:
"Shockingly as a result of the HIPAA violation of the facility and his violation of privacy, he has checked himself out and is immediately returning home. We are alarmed by this extreme invasion of privacy and plan to take immediate legal action."
Scott has already checked out of rehab and is on his way back to Los Angeles. Here's to hoping he has girlfriend Sofia Richie and the Kardashian-Jenner family to help him through whatever is going on, even if it has to be virtually at this time. Sending love and support to LD!