Rob Kardashian is Being Dad-Shamed for Giving 3-Year-Old Daughter Dream a Bottle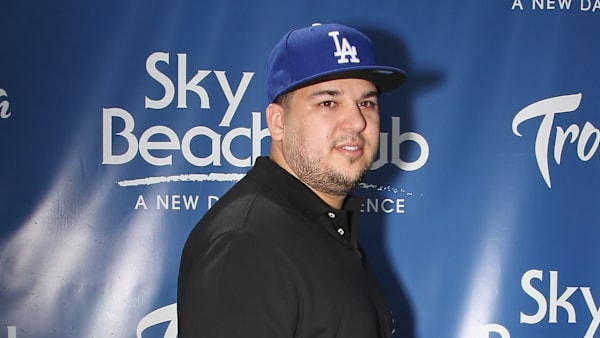 The Kardashian-Jenners make some pretty questionable moves sometimes when it comes to their kids, such as Kim Kardashian and Kanye West buying their six-year-old daughter a $65k jacket that belonged to Michael Jackson, but when it comes to the little things in life, sometimes trolls take it a step too far.
This week, Rob Kardashian was full on dad-shamed for giving his three-year-old daughter, Dream, a bottle in an Instagram video OK! Magazine reports. The youngest of the Kardashian siblings shares his baby girl with his ex-fiance, Blac Chyna.
The adorable video shows the father-daughter duo lounging in bed while tiny Dream trips over the sentence, "Can you put the horses in the back," saying, "in the bag," instead. Rob captioned the post, "Dream is the funniest."
Despite the downright cuteness, all users could focus on was the fact that she has a bottle in her hands. One follower posted, "we [gonna] put that bottle in the back tho Rob! come on man." Another wrote, "Please get her a Sippy cup."
This criticism follows news that he, along with the help of his sister Khloé Kardashian, were going after Chyna for full custody of Dream, alleging that the toddler's mood had drastically changed since being with her mother.
It sounds like Rob has bigger fish to fry than to worry about a few haters giving him a hard time about a bottle.