Nicki Minaj Under Fire After Agreeing to Headline Saudi Arabia Festival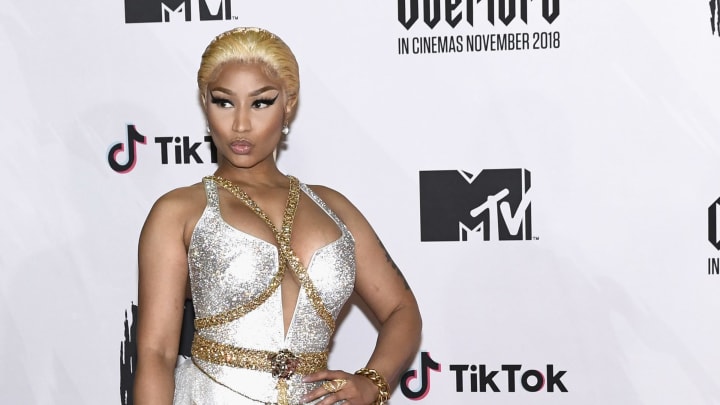 There are a lot of words you could use to describe Nicki Minaj (beautiful, tough, smart, badass), but "traditional" or "ultra-conservative" are not ones that come to mind.
Which is why fans are confused, and frankly a little angry, about why Minaj agreed to headline at Jeddah Festival, taking place in Saudi Arabia. The festival will be held at the King Abdullah Sports Stadium on the Red Sea city, and will be alcohol and drug-free as well as 16+, upholding particular Saudi Arabian laws.
Saudi Arabia has a long and controversial history of gender inequality. As Capital Xtra reports, they just recently have become more open to removing some restrictions against women. Just last year, they removed the 35-year-old ban against a women's right to drive a vehicle.
Though they are sticking their toe in the waters of gender equality, Saudi Arabia still upholds a strict male guardianship system. Human Rights Watch explains that, under the guardianship system, a man controls a Saudi woman's life from her birth until her death. This man, be it her father, husband, brother, or even uncle, in some circumstances, has the final say on everything, including her ability to get a passport, where she works (if she can at all), if she will ever see her children again after the possible death or divorce of her husband, and more.
When listening to Minaj's music or watching her performances, it seems like these oppressive systems are the antithesis to what she stands for. As many know, Minaj is explicitly sexual in her lyrics, and often talks about her financial accomplishments.
This collision of cultures is causing an uproar on social media, with fans angry at Minaj, and many people pointing out the hypocrisy of Saudi Arabian leaders inviting her in the first place.
Minaj has not commented on the recent outrage, but one can only assume that she thinks of this concert as bridging a cultural gap. One thing is for sure, the Saudi Arabian festival goers are in for one hell of a show.