Nicki Minaj isn't afraid to share that she is happy with her new boyfriend, even despite his controversial past. The rapper also isn't afraid to share some steamy details about her relationship with Kenneth Petty. On Twitter over the weekend, Minaj revealed that her and her man have sex an average of three to four times per night.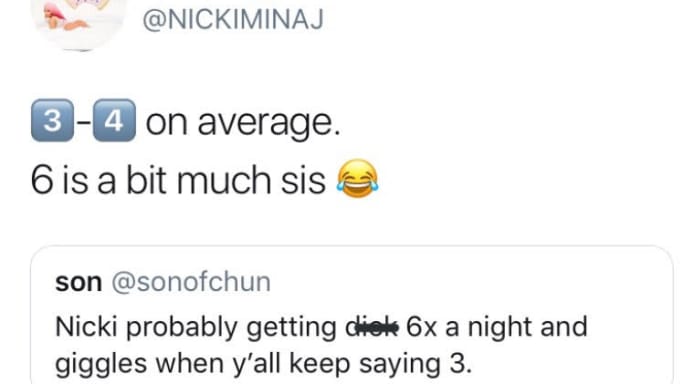 She then answered questions fans had about what happens behind closed doors. When one asked if she would even have more sex if it lasted "like an hr," Nicki responded: "Well, yes. The answer is yes."
It's no shock that Nicki's magic number is three. In September, she told Ellen DeGeneres of her sex expectations: "When I see you, three times a night! And if you can't hang, goodbye. I'm not wasting my time."
Minaj only began to acknowledge her relationship with Petty in December, but she's made it clear that this isn't just some fling.
Fans freaked when they thought Nicki was pregnant, but she reassured them once again. Minaj wrote on Twitter, "Nothing is getting in the way of the US TOUR boo boo."
Minaj's fans criticized her relationship with Petty at first when they found out that his background isn't exactly squeaky clean. Petty, who is a level two registered sex offender in New York, also pleaded guilty to first-degree manslaughter in March 2006.
Regardless of his past, Minaj seems incredibly happy in the new relationship. She wrote on Twitter of her man: "We were like this about each other since we were very young kids in the hood. He was on my body b4 the big ol' ghetto booty. B4 the fame & fortune. Fought my bf cuz I wouldn't be his girl. He was always a lil brazy. But anyway, timing is everything."