Just when you thought things couldn't get more dramatic...
The biggest scandal in Kardashian history might've went down this week, as news hit that Tristan Thompson cheated on Khloé Kardashian with Kylie Jenner's best friend Jordyn Woods. Are you keeping up?
Of course, fans and celebrities alike are all shocked and devastated at the incident, so we can only imagine how Kylie is dealing with all of this. Sources say she's "very torn" on how to react, however it's been reported that Jordyn has already moved out of Ky's home. As any fan of Kylie knows, she and Jordyn have been attached at the hip for years. They even got "married" in a Peruvian commitment ceremony, which was documented on Life of Kylie.
Well, if you thought for a second Kylie would be taking Jordyn's side at all on all of this, it appears you're definitely mistaken. Eagle-eyed fans have discovered that the "Jordy" lip kit on KylieCosmetics.com is now on sale, and Harper's Bazaar reports that change was made today. Instead of the usual $27.00, it is now listed for half the price at $13.50.
However, it's a bit curious that the lip kit is also sold out. This either means that people started buying the color rapidly this week, or that perhaps the sale wasn't enforced after the cheating scandal after all. I mean, why would Kylie put something on sale that was already sold out? We have a lot to ponder, clearly.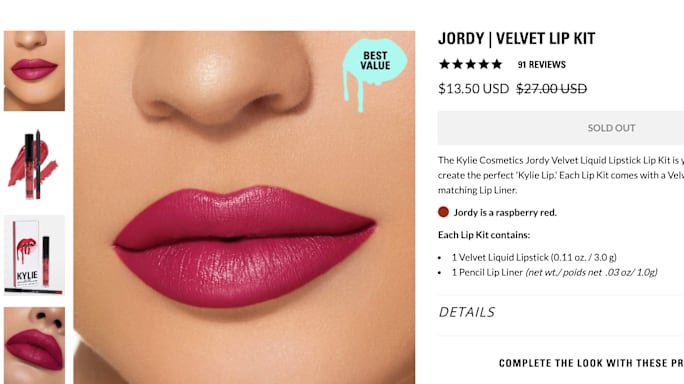 As of right now, Kylie hasn't publicly commented on the scandal yet, but perhaps this is her way of doing so. The shade is SO real.