As fans have been obsessively inspecting and speculating every single detail of the latest Game of Thrones Season 8 teaser, many are stuck on why Jon Snow's statue in the Crypts of Winterfell looks so old. Many believe it signals he will make it out of the final season alive while Sansa and Arya Stark do not, while others simply think it's just badly designed.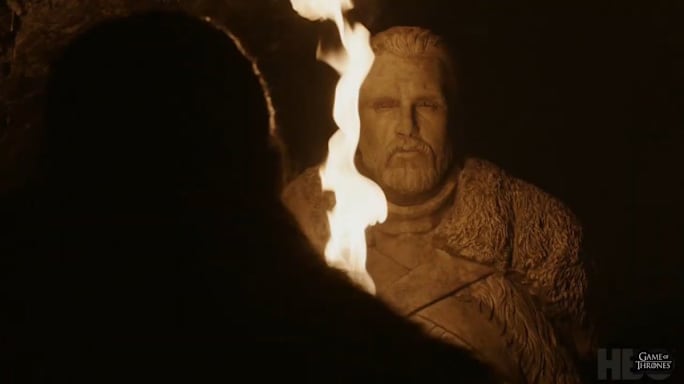 Though Sophie Turner, who plays Sansa Stark, confirmed the teaser actually has "nothing to do" with the final season, fans are still suspicious of the statue. But whatever your take is on it, it seems actor Kit Harington has all the time in the world to check it out. He's confessed in a recent interview that he ended up keeping it.
While chatting with host Zoe Ball on BBC Radio's The Zoe Ball Breakfast Show, Harington said of the divisive statue, laughing, "They sent it to my house. I've got it in my shed. How sad is that? I was the only one who kept their statue, that's how narcissistic I am. I'm going to turn it into a water feature."
Of course, Harington was also asked about the final season and how he feels about it all coming to an end. "[I'm] maybe not happy, but very satisfied," the actor shared. "I'm so excited for people to see it, I think it's going to be extraordinary, hopefully it'll change TV again like it did originally, and break boundaries, I think it might." That's surely what fans are expecting, however the actor did go on to clarify the ending will not be a happy one.
"It's like when you finish a book, you're not happy it's over are you? You don't finish a good book and say 'I'm happy I finished that,'" Harington explained.
Game of Thrones returns for the last time on April 14.