Kim Kardashian continues to help those wronged by the criminal justice system.
In June 2018, the 38-year-old reality star helped get Donald Trump to grant clemency to Alice Marie Johnson, a 63-year-old grandmother serving a life sentence for a nonviolent drug offense. Since, Kim has been working vigorously with prison reform, involved many cases with the goal of getting people out of jail who don't deserve to be there for life. And on top of that, she's looking to help those freed in their lives post-prison.
In February, Kim stated on The Tonight Show With Jimmy Fallon that she will be hiring former inmates to assure they get jobs after they're released. She highlighted the unfair stigma there is on these people, and how difficult getting employment can be for them once they're out of prison.
Now, Kim is taking a step even further, and is reportedly helping former inmate Matthew Charles with his living situation post-jail. E! News reports the KKW Beauty founder will be paying his rent for five years. Charles, 38, was denied housing after being granted clemency.
Charles took to his Facebook page to thank Kim for this incredible gift.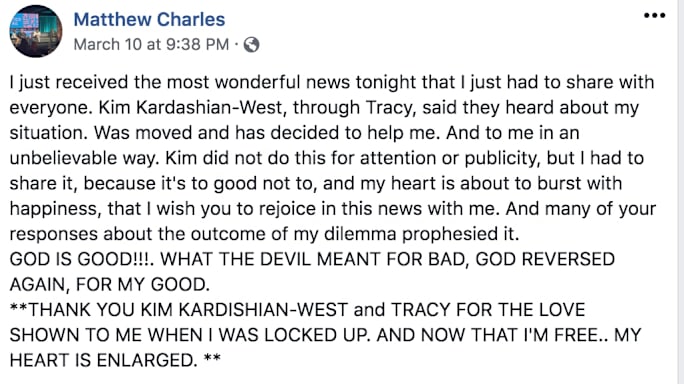 Charles was reportedly released from jail on Jan. 3 due to Trump's First Step Act. Since, he's gotten a job, bought a car, and has been residing with a friend in Tennessee. However due to his criminal record, he's been denied requests for housing in the area. "If having a place to live and a job to work are essential for every citizen. (So) why would that not be the essential case for every citizen, regardless of being a past convicted felon???," Charles wrote on his Facebook page.
This is an incredible act by Kim and we truly hope she continues to use her resources to help others in need just like this.