Amid reports another Kardashian-West baby is on the way, Kim Kardashian is talking about future children in the family on Twitter.
In an Instagram Story, Kim showed off lavish Louis Vuitton mini purses she gifted each girl in the youngest generation of the Kardashian-Jenner gang for Christmas, which includes her daughters North and Chicago, Kourtney's daughter Penelope, Rob's daughter Dream, Kylie's daughter Stormi, and Khloé's daughter True.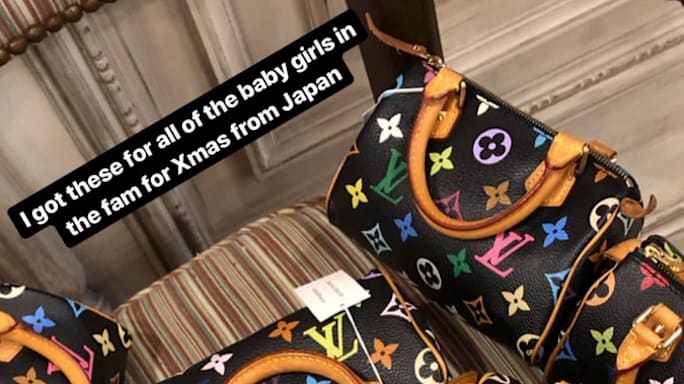 One very observant fan noticed that there were eight purses and only six girls in the family to give the gifts to. Once the fan pointed this out on Twitter, Kim was ready with an explanation.
Kim picked up the Mini HL Speedy Bag, which retails for about $620, on a trip to Japan, according to E! News.
Reports about a fourth Kardashian-West baby started last week and fans are thrilled to welcome a new child from KimYe, but neither counterpart of the couple has actually confirmed the news yet.
Though the purses are meant only for the Kardashian-Jenner girls, sources say that the couple are using a surrogate again and are expecting a baby boy to be born in May. Finally, Saint will have a brother to run around in Yeezy sneakers with.
On Tuesday night, Kylie Jenner posted a video to Instagram of her daughter Stormi receiving the present that Aunt Kim had bought for her. We haven't seen this much cuteness in a long time.
At only 11 months old, Stormi already knows how to wear that purse like a pro. But we're not surprised, as she learns from the best.
We hope the Kardashian-Jenner clan continues to grow.