Khloé Kardashian's BFF Malika Haqq Says Relationship With Tristan Thompson is 'Not Over' on 'KUWTK'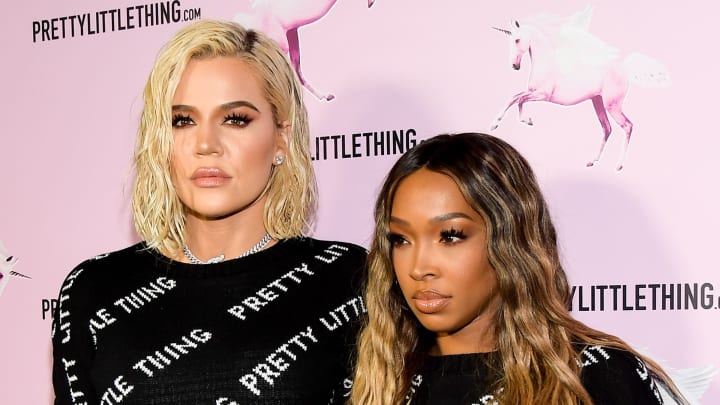 On last night's episode of Keeping Up With the Kardashians, fans got an even clearer understanding of just how much Tristan Thompson is doing to win back his ex-girlfriend and baby mama, Khloé Kardashian.
In the video below, we witness the Good American co-founder find a diamond necklace from the NBA star in her hotel room. The 35-year-old mom's BFF, Malika Haqq, revealed that she helped Tristan orchestrate the gift, saying, "He asked for help to surprise you with something...He wanted to give you something, do something nice for you."
Us Weekly reports that, when the Revenge Body host star called her ex (and father to their 19-month-old daughter, True) to thank him for the gift, she asked him what it was for. When he responded, "Just because," Khloé quipped, "You weren't this nice to me when we were together. Ever."
But the gifts didn't stop there. Later in the episode, Khloé revealed to Scott Disick that Tristan gave her a diamond ring and a long letter. She recounted that she had adamantly said "No!" to the ring, but that the Cleveland Cavaliers player referred to it as a "promise" ring, not as an engagement ring.
Later in the episode after a party thrown by her baby sister, Kylie Jenner, Khloé shared a conversation she had with Malika and her then-boyfriend, rapper O.T. Genasis, saying, "Malika and O.T. were like, 'I don't think it's over with you and Tristan." Khloé, however, stuck to her same story: that she is not interested. She explained, "There's really nothing romantic between Tristan and I. Tristan is really trying to show he's sorry on a daily basis...We're slowly moving into the right direction of being friends as well as excellent co-parents."
Whether it is to win her back or to apologize for all the infidelities, Khloé deserves to be showered in gifts, especially by Tristan.