Kendall Jenner Reminds Sister Kylie That They're Fighting After She Posts Throwback Photo to Instagram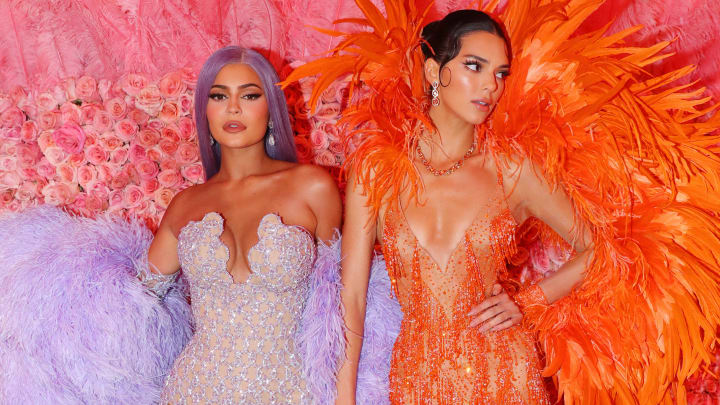 Even from quarantine, the Kardashian-Jenner sisters know how to stir up drama. On Sunday, Kylie Jenner posted a throwback photo of herself and her older sister, Kendall Jenner. In the photo the sisters are wearing nude lipstick and white sports bras, with the model sporting lighter brown locks and the mom-of-one showing off blonde tresses.
Entertainment Tonight reports that Kendall commented on the photo, shown below, and seemingly alluded to drama with her younger sister, writing, "Aren't we fighting?" Even though there might be some tension between the sisters right now, Kylie had a hilarious response.
The 22-year-old makeup mogul replied, "@kendalljenner yes but my t**ties are sitting nice in this pic." Considering how hard it is to get the perfect fire pic for Instagram, I think it's fair for Kylie to post the photo. Silly drama comes and goes, but fabulous pictures with your sister are forever. Though the sisters left it at that, their older sister, Khloé Kardashian, commented on the post, "I miss us." It seems that social distancing is affecting the entire Kardashian-Jenner clan. Kim Kardashian West previously revealed that the close-knit family are keeping their distance amid the Coronavirus outbreak.
"Miss my sisters but we are all social distancing and staying away from each other all separately self quarantined," she wrote on Instagram last week. "It's hard but we have to do this for our safety and for everyone else's." Hopefully some time and space will allow Kylie and Kendall to work out whatever it is they're fighting about!