The A-Lister
Is Kylie Jenner pregnant with a baby boy? Kylie Baby might be a big clue!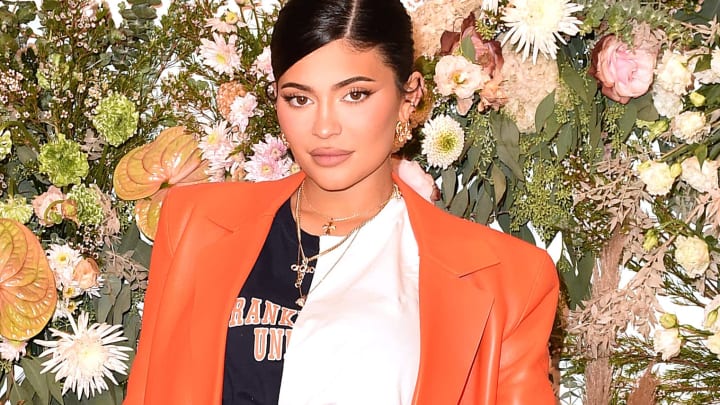 REVOLVE Gallery NYFW Presentation And Pop-up Shop At Hudson Yards / Bryan Bedder/Getty Images
Kylie Jenner - who has been showing off her fierce maternity wardrobe - is launching her new business venture 'Kylie Baby' on September 27, and ahead of its lauch the brunette beauty gave fans a preview of the updated look of her new products, but the peek has sparked rumors that the 24-year-old makeup mogul is pregnant with a boy!
While Kylie confirmed that three-year-old Stormi Webster will be becoming a big sis in a heartwarming video posted earlier this month, and although the former KUWTK star hasn't confirmed when she's due, or the gender of her baby, many believe that the recent update of Kylie Baby, which previously resembled the similar theme and look to Kylie Skin; which was pink, is a clue that Kylie Jenner is expecting a baby boy.
Take a look at the new look below!
Kylie Baby has now been updated from just pink to a two-toned theme, including a baby blue ombre into a dusty pink, but that wasn't all that made fans come to the conclusion that Kylie is having a boy.
When she announced the launch of her new business venture on Instagram earlier today, the 24-year-old billionaire posed with her adorable daughter dressed in blue. Many will remember that when Kylie Jenner was pregnant with Stormi - despite keeping it a secret - the star would post in tones of pinks and butterflies in a way to pay tribute to her not yet born daughter, so many are thinking she's doing the same now.
"Is the blue a clue, Kylie? ?," a fan wrote in response to the picture of Kylie and Stormi with the new Kylie Baby products.
Another out right wrote, "I feel like she will have a baby boy." While a third just simply penned, "Blue for a boy, so happy for you!"
Check out the post below.