'Game of Thrones' Fans Are Obsessed After Seeing Kit Harington and Rose Leslie Walk Golden Globes Red Carpet
By Jessica Bowman | Jan 06 2020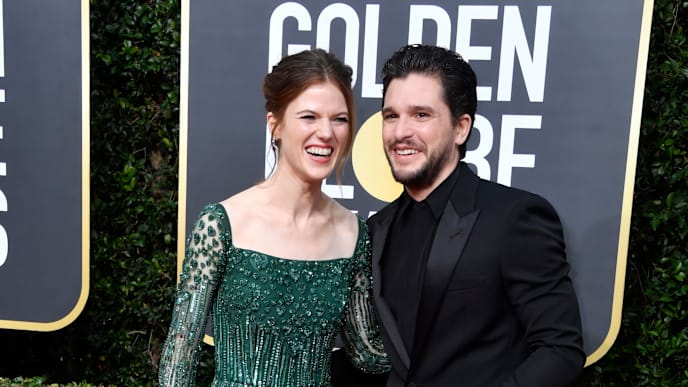 Jon Snow might have been sentenced to a life north of the Wall, but that doesn't mean he still doesn't have Ygritte by his side...in real life, that is.
Game of Thrones star Kit Harington was joined by his lovely wife and former co-star, Rose Leslie, last night on the red carpet for the 77th Golden Globe Awards. The 33-year-old actor was the only cast member from the controversial eighth season to be nominated at the prestigious award show, but luckily he wasn't lonely. Leslie, who played the crimson-haired Wildling on the HBO series, joined him for the Hollywood date night.
The couple looked very much in love as they enjoyed the evening.
The two were married in a fairytale wedding in 2018 after meeting on set about seven years prior. Recently, fans have been concerned about the how the couple was doing after Harington dropped out of the limelight for a while to seek treatment for alcohol abuse in May.
The Eternals actor's representatives stated at the time that, "Kit has decided to utilize this break in his schedule as an opportunity to spend some time at a wellness retreat to work on some personal issue." It was rumored that he was suffering from stress, anxiety, exhaustion, and poor coping mechanisms. Allegedly, Leslie was the one to encourage him to get help.
Though Brian Cox ended up taking home the award in the category for his role in Succession, seeing Leslie and Harington healthy, happy, and in love is a win for Game of Thrones fans.