Farrah Abraham is Called 'Disgusting' After Posting TikTok With Sophia About 'Drugs and Guns'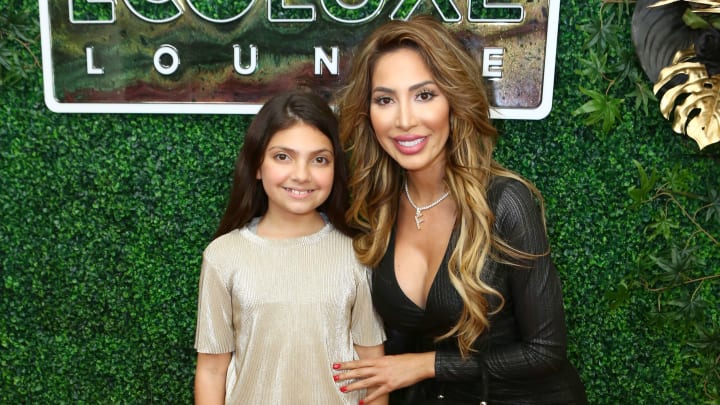 Well, well, well. Here we go again! Farrah Abraham is making people angry with her latest TikTok video, and at this point, can you even be surprised? The former Teen Mom OG star is known for her controversial social media posts, and has been called out time and time again for her questionable parenting skills. Although it certainly seems that she cares about her 11-year-old daughter Sophia, sometimes she treats her as if she's an adult.
The TikTok in question, as The Sun reports, shows Sophia dressed up as what appears to be a bum, as the pair lip-sync to the song "Famous (I'm the One)" by Mozzy and Iamsu!. Farrah's daughter appears first, rocking a fake unibrow, mustache, and beard. The MTV personality then pops up, wearing normal clothing. Viewers were perplexed by the style of the video, but really raised their eyebrows after the two sang about "drugs and guns."
Watch the video below.
The conversation about the TikTok video quickly turned to Twitter and Reddit. "This is absolutely disgusting but I have come to expect nothing but grotesque parenting from a grotesque human being," one particularly scathing comment on Reddit read. "Also she looks horrific and has zero rhythm or sex appeal. I hope she is saving money for Sophia[']s therapist when she is older."
But while this video isn't exactly the shining example of appropriate, followers know this is far from the most offensive post the mom-daughter duo have shared. Earlier this month, Farrah defended her decision to post a video which involved Sophia and a vibrator sex toy. "That was an online trend … about doing quirky things and hitting people in the face with [stuff]," she explained to Us Weekly. "I don't really feel like I can be shamed when I protect my child. I educate my daughter. We have so much fun on TikTok. … I think I'm doing pretty great."
Clearly, Farrah doesn't see anything wrong with her TikTok videos, so we shouldn't be shocked when they range from weird to straight-up inappropriate.