Fans Can Celebrate Thanksgiving With a 'Friends' Holiday-Themed Locations Tour
This year, the word "friendsgiving" has a whole new meaning.
Entertainment Weekly reports that Warner Bros. Studio Tour Hollywood is giving Friends fans an opportunity to eat their turkey and mashed potatoes on the set of the beloved series.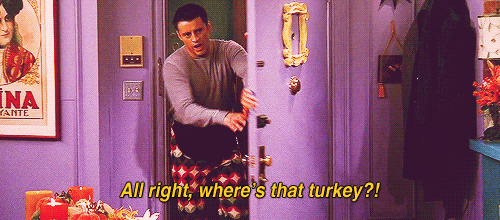 For $139, guests will get a 90-minute tour of the most iconic filming locations. Celebrate the show's 25th anniversary by visiting Monica's apartment, sitting on the big orange couch at Central Perk, jogging along the path that Phoebe and Rachel did on the Central Park set, and singing "Smelly Cat" in the same spot where Phoebe used to perform.
And the fun doesn't stop there. EW reports that fans will also get the chance to win prizes with Friends trivia while on the tour. When the guests are good and hungry, they will be served a Thanksgiving feast prepared by a private chef.
Maybe don't put the turkey on your head, though, I hear it still scares the bejeezus out of Joey.
Last but not least, for the first time ever, guests will be able to dance in the famous fountain from the opening credits of the show. Good thing we have been practicing the clap all these years!
Tickets are now on sale here, and the tours will take place throughout November.
This article also appears on Mental Floss.