It's been almost four years since Caitlyn Jenner came out as transgender with the 2015 Vanity Fair cover story and her 20/20 interview with Diane Sawyer. Since coming out, she has been showered with a variety of awards for her bravery and the positive impact she's had on trans awareness.
And despite the fact Jenner has made a few comments that have drawn ire from the LGBTQA+ community, many still appreciate her for the courage it took to come out. However, that does not mean everyone across the country shares the same respect.
The former reality star and Olympic gold medalist has been attacked numerous times by conservative commentators and the religious right, with the most recent instance coming from a church in Northern California.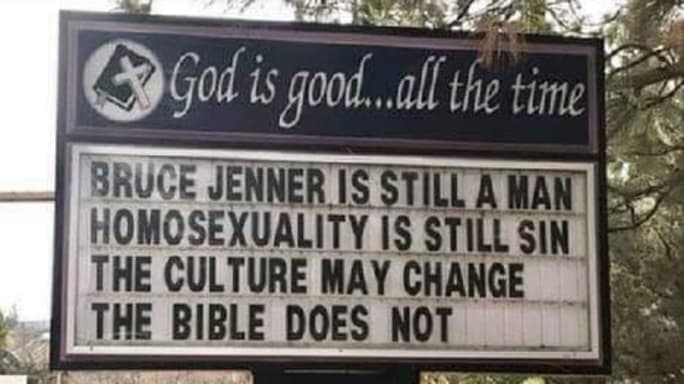 Trinity Bible Presbyterian Church has sparked controversy over a sign that reads: "Bruce Jenner is still a man. Homosexuality is still a sin. The culture may change. The Bible does not."
On Sunday, residents of the town where the church is located, Lake Shastina, began protesting the sign to denounce what they called "hate and slander," and to show support for Jenner and the LGBTQ community.
@Caitlyn_Jenner Hi Caitlyn, just wanted to let you know that today about 30 people from a very small town in Northern California stood out in the freezing weather to support you after a local "church" disparaged you on their sign. We will be back next week I'd sign is up ❤️??❤️ pic.twitter.com/o8tU3qrdU9

— Queen Bitch (@RealNastyWoman) January 7, 2019
Individuals outside the Northern California community have caught wind of the controversy and are up in arms over the sign, namely because of how its message may impact LGBTQA+ youth.
Justin Hoke, the church's pastor, wrote on Facebook Wednesday that the sign had been partially destroyed and the letters had been stolen. However, by Thursday, the sign was back up with the church's original message. Another protest against the sign is planned for this upcoming Sunday, according to organizers.
Hoke appears to not understand why people are protesting. "If a conservative mountain farming community is no longer a safe place to call sin, sin, then is anywhere in this country still safe for real questions," he wrote on Facebook.
It's pretty ironic that Hoke, who is essentially arguing for a safe space, does not understand how the church's sign creates an unsafe environment for vulnerable communities.