The most riveting Kardashian event of the year has all unfolded in the past two weeks. Take a look to see our complete, compiled list of everything that has gone down since this mess started between Tristan Thompson and Jordyn Woods.
1. Tristan and Jordyn seen at House Party: Feb. 16 - 17
Ah, the fateful night where it all began. Onlookers at a party at Thompson's house said that they saw the two cozying up together in the wee hours of the morning, with Woods spotting leaving the house the next day at around 7 a.m.
2. Rumors Begin Circulating, Woods Spends Time With Jenner, Khloé Confronts Tristan: Feb. 18
February 18th was quite a day, apparently. The pictures from the night before begin to leak, Woods was spotted spending time with BFF Kylie Jenner, and Khloe Kardashian confronted the father of her child about the events, a conversation which allegedly led to Thompson "admitting to it."
3. Thompson Takes to Twitter: Feb. 19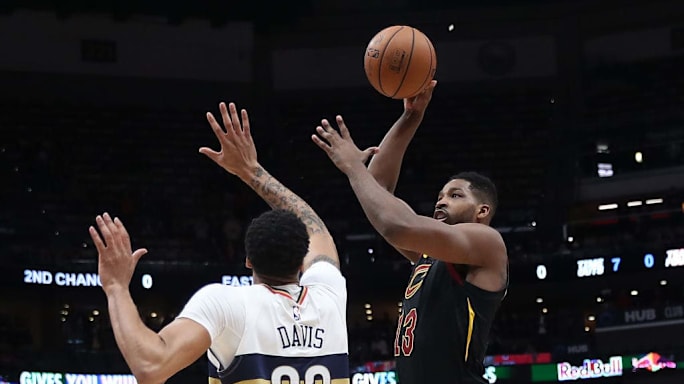 The Cleveland Cavaliers player tweeted "FAKE NEWS" in a since-deleted post.
4. Social Media Stipulations: Feb. 19 - 20
In just two days, Khloe liked a comment that supported her in the situation, and sister Kim unfollowed both Woods and Thompson. And for one of the most followed people on Instagram, this meant it was getting serious. Plus, it was the first confirmation we got this scandal might be real.
5. Squashing Rumors About Cheating Being a Reoccurring Trend: Feb. 22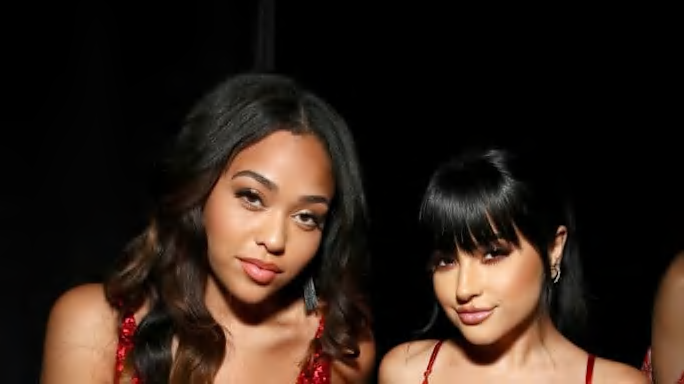 A source revealed to US Weekly that the rumors about the aspiring model hooking up with the NBA player multiple times prior to the party were "not true" and added that it was the "first time" anything had happened.
6. Khloé Comes Out of Hiding: Feb. 26
Hi loves, wanted you to know that I appreciate you! ?? I've been reading your kind words and they really are a blessing to me. I love you! Thank you Thank you! I'll be back when I'm in the mood to chat with you all. Until then remember to be kind to one another ?

— Khloé (@khloekardashian) February 26, 2019
Khloe rose to the center of the story again when she made headlines with a tweet confirming to fans that she was okay.
7. Scandalous Snapchat: Feb. 27
(?: splashnews) According to #TMZ, Tristan arrived at a #NYC restaurant called Carbone with one of his teammates. A few minutes later, the mystery woman showed up and Thompson came out to… https://t.co/uxm1itz5Fn

— Media Butter (@themediabutter) February 28, 2019
Thompson posted and then quickly deleted a picture of himself at an Italian restaurant in NYC with a woman's fingers gripping a wine glass in the background. Everyone was quick to assume he was already on a date with someone new.
8. The Big Kaboom: March 1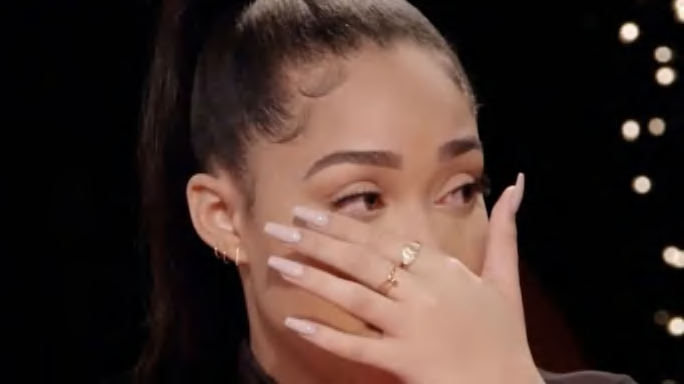 Jordyn appeared for the first time in public to give her side of the story and was interviewed on Jada Pinkett Smith's Red Table Talk. She denied she had sex with Thompson, claiming he kissed her.
9. The Big Kaboom, Part 2: March 1
Why are you lying @jordynwoods ?? If you're going to try and save yourself by going public, INSTEAD OF CALLING ME PRIVATELY TO APOLOGIZE FIRST, at least be HONEST about your story. BTW, You ARE the reason my family broke up!

— Khloé (@khloekardashian) March 1, 2019
Khloe responded to the episode with a fiery tweet stating her opinion on the matter--and sparked up a whole new controversy on the episode. No one knew who to believe.
10. The Calm *After* the Storm: March 2
I have to move on with my life & count my blessings, my family, my health, & my beautiful baby True.

— Khloé (@khloekardashian) March 2, 2019
At the end of a stream of tweets clarifying her thoughts on the situation, Khloe left fans on a positive note. She also stated that Tristan was at fault for the whole thing, easing up on Jordyn.
We're sure more will come out of the woodwork, so stay tuned.