10 Kale Salad Recipes for On-the-Go Meals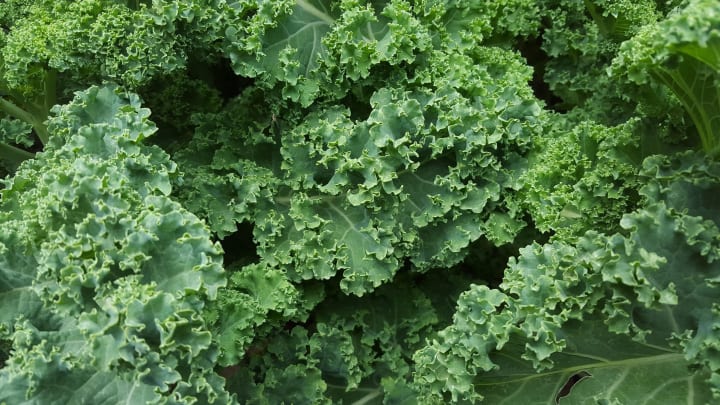 Getting creative while staying healthy can be a bit of a challenge sometimes. When you think of a salad, you might not imagine the most exciting meal in the world. Especially not when you're in a rush and would rather eat on the go. Well, instead of paying for a salad during your lunch break, you can try prepping your own which can be very easy to take with you. Plus, you can make it actually fun.
Here are 10 kale salad recipes easy to make and tasty to eat.
1. Greek Kale Salad With Lemon Olive Oil Dressing
(From Gimme Delicious)
Ingredients:
1 large bunch about 10 ounces or 3-4 cups kale leaves, finely chopped
1 pint cherry or grape tomatoes, halved
1 cucumber, seeded and diced
1/2 red onion, thinly sliced
1/2 cup crumbled feta cheese
1/2 cup extra virgin olive oil
Directions:
For dressing: Combine olive oil, lemon juice, garlic, oregano, salt, and pepper, whisk until combined
For salad: Combine all the chopped ingredients in bowl, pour dressing over salad and mix, sprinkle with extra feta cheese before serving
2. Kale Quinoa Salad With Blueberries
(From Kristine's Kitchen)
Ingredients:
1 large bunch or 6 cups kale, tough stems removed and chopped
15 ounce can chickpeas, rinsed and drained (optional)
4 ounces goat cheese, crumbled
1 avocado, peeled, pitted, and chopped
1/4 cup extra virgin olive oil
1 1/2 teaspoons Dijon mustard
Directions:
Rinse and drain the quinoa
Place quinoa and 2 cups water in a small saucepan and bring to a boil
Cover, reduce heat to a low simmer, and cook for about 15 minutes until water is absorbed
Make dressing by whisking together olive oil, lemon juice, honey, mustard, salt, black pepper
Add kale and toss it with the dressing (with hands)
Once quinoa is cool, add it to the bowl with the kale, along with chickpeas (if using), blueberries, goat cheese, almonds, and avocado
3. Kale and Lime Caesar Salad
(From Gimme Some Oven)
Ingredients:
For salad:
4 cups chopped fresh kale
4 cups chopped Romaine lettuce
3/4 cup grated Parmesan cheese
For dressing:
1/2 cup plain non-fat Greek yogurt
1/2 cup freshly grated Parmesan cheese
3-4 tablespoons fresh lime juice
1 tablespoon extra virgin olive oil
1-2 teaspoons anchovy paste
2 teaspoons Worcestershire sauce
1 clove garlic, pressed or finely minced
Directions:
For salad:
Add the kale, Romaine, croutons, and Parmesan to bowl, toss until combined
For dressing:
Add all ingredients except milk to mixing bowl, whisk together until combined and smooth
Whisk in a tablespoon of milk at a time until the dressing consistency to your liking
4. Chopped Thai Kale Salad
(From Pinch of Yum)
Ingredients:
For salad:
16 ounces frozen shelled edamame
2 bell peppers (1 red, 1 yellow)
3/4 cup cashews (Pinch of Yum recommends Thai Lime and Chili Cashews from Trader Joe's if possible)
For dressing:
3 tablespoons low sodium soy sauce
2 tablespoons white distilled vinegar
1 tablespoon lemongrass paste OR ginger
Directions:
Puree all the dressing ingredients in a food processor until smooth
Taste and adjust to fit your preferences
Transfer to dressing jar and rinse food processor for later
Cook edamame by boiling it for 3-5 minutes, drain and allow to cool
Slice kale, carrots, peppers, cilantro leaves, and green onions into thin strips
Place cooked edamame in food processor and pulse 5 times to get minced texture, transfer to bowl
Repeat same food processor step for cashews
Toss kale, carrots, peppers, cilantro, green onions, edamame, and cashews together until well combined
Drizzle with the dressing, toss gently a few times
5. Simply Delicious Kale Salad With Lemon Vinaigrette
(From Evolving Motherhood)
Ingredients:
3/4 cup dried cranberries
2 tablespoons lemon juice
2 tablespoons apple cider vinegar
2 tablespoons extra virgin olive oil
Directions:
Bring large pot of water to a boil
Cut kale leaves from stems, chop small enough for bites
Add kale to boiling water and flash boil for 1 minute
Remove kale and rinse with cool water
Use salad spinner to spin out as much water as you can
Move kale to a serving bowl, add in the shredded carrots, chopped walnuts, and cranberries
To make the dressing, mix the lemon juice, apple cider vinegar, olive oil, and honey with a whisk
6. Garlicky Orange Kale Salad
(From She Wears Many Hats)
Ingredients:
2/3 cup fresh orange juice
2 tablespoons red wine vinegar
1/2 teaspoon ground ginger
1/2 teaspoon salt (plus more to taste)
1/2 teaspoon ground black pepper (plus more to taste)
3 garlic cloves grated or minced garlic
10 cups thinly chopped kale leaves (about 1 large bunch with stems removed)
1 cup toasted sliced almonds
1 1/2 cups shredded carrots
Directions:
Whisk together orange zest, orange juice, red wine vinegar, olive oil, dried thyme, ground ginger, salt, pepper, and grated garlic until blended
Add remaining ingredients and toss
Add salt and pepper to taste
7. Kale Salad With Poppy Seed Dressing
(From Ahead of Thyme)
Ingredients:
1/2 cup brussel sprouts, chopped
1/2 cup green cabbage, chopped in thin slices
1/4 cup red cabbage, chopped
1/4 cup broccoli florets, chopped
1 tablespoon granulated sugar
1 tablespoon white wine vinegar or rice vinegar
1/8 cup toasted pumpkin seeds
1/8 cup dried cranberries
Directions:
Combine all greens together
Whisk together vinegar and sugar until sugar is dissolved, add Greek yogurt, olive oil, poppy seeds, salt and pepper and whisk until fully combined
Drizzle dressing into the bowl and toss salad
Sprinkle pumpkin seeds and dried cranberries on top
8. Roasted Beet and Carrot Kale Salad
(From Haute & Healthy Living)
Ingredients:
2 medium beets, trimmed, peeled, quartered and sliced 1/4-inch thick
2 large carrots, sliced 1/4-inch thick
3 tbsp. olive oil, divided
1/2 tsp freshly ground black pepper
4 medium shallots, peeled and quartered lengthwise
1/4 cup unsalted pumpkin seeds
6 cups chopped kale (stems removed and cut into smaller pieces)
1/3 cup dried cranberries
Directions:
Preheat oven to 425 degrees F
Combine beets, carrots, 2 tbsp. of olive oil and salt and pepper
Add carrots and beets to a baking sheet and roast in oven for 10 minutes
Remove from oven and toss the shallots and pumpkin seeds with the beets and carrots on the baking sheet
Roast for an additional 20-25 minutes or until the vegetables are tender
Place chopped kale in same bowl where the beets and carrots were
Add remaining tablespoon of olive oil and massage into kale leaves with your hands until the leaves are bright green and tender (about 2-5 minutes)
In bowl, combine ingredients for the dressing
Remove vegetables from oven and allow to cool for 5 minutes
Add vegetable mixture to bowl with kale and toss with dressing
Allow salad to sit for at least 30 minutes to allow flavors to combine
9. Apple Cranberry Bacon Kale Salad
(From Eat Well 101)
Ingredients:
1 red apple, cored and chopped in small pieces
1/3 cup crumbled feta cheese
1/3 cup dried cranberries
4 tablespoons apple cider vinegar
1 tablespoon Dijon mustard
1/2 teaspoon salt and black pepper
Directions:
Combine chopped kale, bacon, apple, almond, feta, and cranberries
Whisk together all dressing ingredients: apple juice, mustard, apple cider vinegar, olive oil, honey, salt, and pepper
10. Parmesan Pistachio Kale Salad
(From How Sweet Eats)
Ingredients:
For salad:
2 bunches kale leaves, removed from stems and chopped
1/4 cup roasted pistachios chopped
1/4 cup shaved Parmesan cheese
For dressing:
1/2 cup finely grated Parmesan cheese
3 tablespoons Greek yogurt
1 tablespoon freshly snipped chives
1/2 tablespoon Dijon mustard
2 teaspoons red wine vinegar
1/4 teaspoon black pepper
Directions:
Drizzle kale with olive oil and massage into leaves
Let the kale sit while you make the dressing
In a food processor, combine cheese, yogurt, garlic, mustard, vinegar, lemon juice, salt and pepper, blend until pureed
With the processor still on, stream in the olive oil until a creamy dressing forms (This will make more dressing than needed, but can store what you don't use)
Drizzle few tablespoons of dressing over kale and toss well (How Sweet Eats recommends 1-2 minutes)
Cover with the chopped pistachios and shaved Parmesan