Tyler Baltierra Says He's 'Miserable' With Wife Catelynn on 'Teen Mom OG'
By Natalie Zamora | Nov 20 2018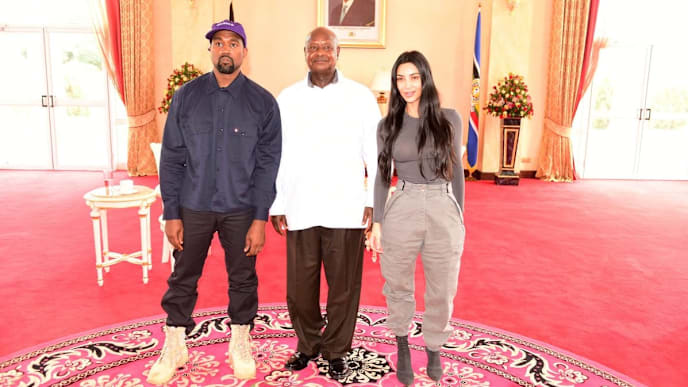 Just days after Kanye West's totally bizarre and unnecessarily publicized meeting with Donald Trump in the Oval Office, he jetted off to Uganda with Kim Kardashian and their oldest daughter, North.
After Kanye failed to release his new album Yandhi as planned following his appearance on Saturday Night Live, the 41-year-old rapper claimed he had to go to Africa to finish the project. Apart from apparently working on the album during his visit, Kanye took Kim to meet the President of Uganda, Yoweri Museveni, yesterday.
And besides giving him a fresh pair of White Yeezy Boost 350s, Kim and Kanye were forced to explain what exactly Kim does for a living. Awkward!
"They met with the President of Uganda and the president asked Kim why she had to leave early, she replied that she had to go back to work," a source told PEOPLE. "The president then asked what was her job and Kim, very politely, said that she had a TV show with sisters and family and they were all waiting for her return."
We don't expect the President of Uganda to know what Keeping Up With the Kardashians is, but it's just hilarious to hear someone ask the reality star and businesswoman what she does.
Reportedly, Kanye is looking to extend his trip in Uganda, as he "wants to get involved in creating a tourism and hospitality school for higher education," according to the source. We don't expect Kim to return anytime soon, however, as she's currently filming KUWTK Season 16, her reasoning for leaving in the first place.