​With Sony's anti-hero film Venom hitting theaters next month, fans are extremely excited to see ​Tom Hardy's Eddie Brock as the terrifying symbiote, something the work of CGI has made visually satisfying for Marvel and horror fans alike.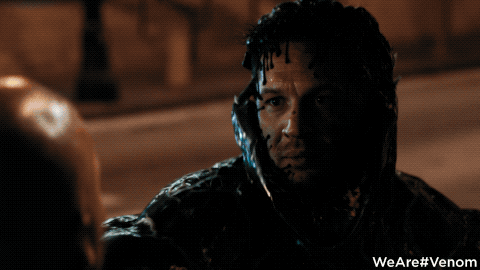 However, without the special effects finalized, Venom can actually look pretty hilarious, and there's now video evidence to prove it.
For a recent ESPN promo "New Mascots," former NFL players and current ESPN analysts lead a support group to find a new team mascot, with the only requirement being it has to be scary. *Cue Venom.* Eddie enters, and scares the room by transforming into the symbiote, seemingly earning the mascot job.
But while the people in the ad seem terrified, we can't help but laugh at how so 1990s the CGI looks. Many have taken to social media to share their thoughts on the effects.
Wow. ESPN needs to get rid of that Venom ad. That was horrible

— Cameron Cruz (@ccruz280) September 25, 2018
One is clearly disappointed and even called for ESPN to pull the ad.
Another called the CGI "truly awful," and joked about Eddie Brock's appearance as well.
The ESPN ad is just the latest reason for fans to be suspicious of the CGI, as many have expressed their worry it just won't be good enough for the film. Though Venom's budget is reportedly much lower than most MCU films at $100 million, we surely hope it's enough to provide some impressive special effects and pull through.
​Venom hits theaters on Oct. 5, and we're still super excited despite this terrible promo.