​Netflix must be having fun pulling at fans' heartstrings, as the streaming service has taken to its official Twitter account to tease us with two of their biggest original shows that we miss ever so dearly.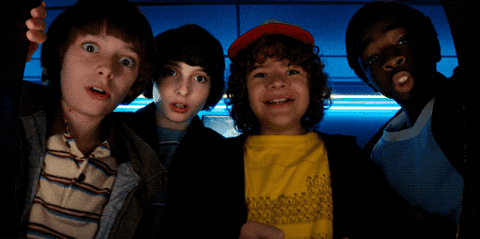 Although ​13 Reasons Why and Stranger Things both do involve kids trying to figure out how to live in a world they once knew that's been completely flipped "Upside Down," most would agree the two series aren't really similar at all.
But that didn't stop fans from buzzing when Netflix shared an adorable photo of some of the 13 Reasons Why stars imitating a Stranger Things scene. While Michele Selene Ang (Courtney Crimsen) and Tommy Dorfman (Ryan Shaver) channeled their inner ​Joyce Byers with Christmas lights, Alisha Boe (Jessica Davis) posed like Eleven with her Eggo waffles box.
"13 Stangerer Things," Netflix cleverly captioned the shot. So cute.
Although they didn't give any further explanation for the photo, many took to the reply section to share their thoughts on the epic image. "SOMETHING I NEVER KNEW I NEEDED!" one wrote, while another added, "Imagine a show that combines characters from both series."
SOMETHING I NEVER NEW I NEEDED!

— Carter Camargo (@c4rters4rt) August 29, 2018
One particularly smart fan posed a super awesome idea... What if 13 Reasons Why Season 3 has a Halloween party, and Courtney, Ryan, and Jessica dress up as Stranger Things characters?! Might be reading too much into the pic, but we love it anyway.
lemme guess, Halloween party in 13RW3

— vince hαrvey (@vincebalag) August 29, 2018
We don't think there will be an actual crossover show between the two, but we're hoping there is some type of connection between them in their upcoming seasons. We'd love at least an Easter Egg! Something!
Stranger Things is believed to be coming back for ​Season 3 in summer 2019, while 13 Reasons Why just ​began production for its third season, with the premiere date unknown.