Beyoncé and Jay-Z are currently on the Europe leg of their On The Run II Tour, as we've seen all over social media. Over the weekend, the Carters stopped in Rome, and were seen out and about before their performance. Jay-Z was spotted and pictured on a jet-ski, and of course, it instantly became a meme.
​​But this meme wasn't the biggest story of their trip. During ​the couple's​ performance, Beyoncé may have hinted she was pregnant. She rubbed her belly while singing, and her fans are now convinced she's about to become a mother of four.
It seems like a giant stretch, but a true fan of Queen Bey would understand the connection. At the 2011 MTV Video Music Awards, ​Beyo​ncé rubbed her belly to announce her pregnancy with Blue Ivy. So it makes sense her fans would make this assumption.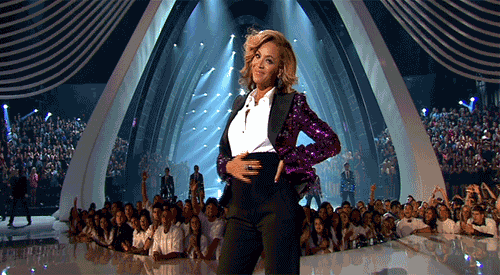 But is it really like Beyoncé to reuse an old trick, or is she purposefully trying to send a clue to her biggest fans? This belly rub was more subtle than the original, so it's really hard to tell if it was intentional or not.
Beyoncé and Jay-Z are also confirmed for the Global Citizen Festival in South Africa in celebration of ​#Mandela100, which is in five months. If she really is pregnant, she'd most likely be unable to attend. So while we'd love to see a new addition to the Carter family, it doesn't seem like the time just yet.